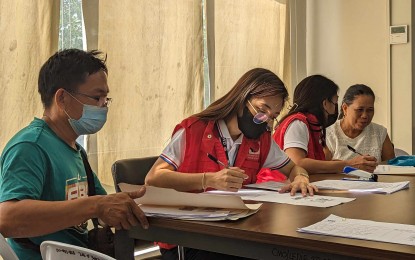 ILOILO CITY – The Department of Social Welfare and Development (DSWD) on Thursday reminded candidates in the Oct. 30 Barangay and Sangguniang Kabataan Elections (BSKE) that their presence is not welcome during the mass payout, especially for the Assistance to Individuals in Crisis Situation (AICS).

AICS was among the programs of the government exempted from the spending ban as stipulated in the provisions of Section 261 of the Omnibus Election Code in relation to Resolution No. 10944 of the Commission on Elections (Comelec).

"They can be disqualified because the election campaign is still banned during this time. So when they go to mass gatherings, that can be interpreted as campaigning," DSWD regional director Carmelo Nochete told the Philippine News Agency.
The massive payout will be until Oct. 20, while the regular AICS given to qualified individuals, such as, but not limited to basic needs in the form of food, transportation, medical, educational, burial, and other similar assistance, will continue.

The campaign period for the BSKE is from Oct. 19 to 28.
Meanwhile, Comelec Western Visayas Regional Director Dennis Ausan said regular programs of national government agencies (NGAs) have been exempted from the ban because that is their mandated function.
This, he added, should not be politicized, especially now that elections are near.

"We should always bear in mind that this election period was not designed to cripple the delivery of basic services," he said.
Other programs and projects included in the exemption are the Food Stamp Program (FSP), Tara, Basa! Tutoring Program, Oplan Pag-Abot, Project Lawa, Social Pension Program, Centenarian Program, and Supplemental Feeding Program.

Also exempted are Pantawid Pamilyang Pilipino Program (4Ps), Enhanced Partnership Against Hunger and Poverty, Kalahi-CIDSS, Payapa at Masaganang Pamayanan Program, Recovery and Reintegration Program for Trafficked Persons, Psychosocial care and support for persons living with human immunodeficiency virus and their affected families.

The Targeted Cash Transfer Program, Residential and Non-residential Care Program, Philippine Multi-Sectoral Nutrition Project, Socio-Economic Program for Normalization of the Commissioned Combatant, and Modified Shelter Assistance Project are also included.

To date, the release of the PHP15,000 subsidy for micro rice retailers under the Sustainable Livelihood Program-Economic Relief Subsidy continues.

The DSWD piloted the distribution of one-time subsidy to 48 micro rice retailers in Iloilo City and Negros Occidental on Wednesday, where a total of PHP720,000 was released.

A simultaneous payout is ongoing on Thursday in Aklan, Antique, Capiz, and Guimaras. (PNA)