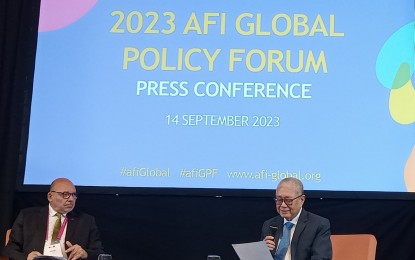 MANILA - The Bangko Sentral ng Pilipinas (BSP) is urging more banks to waive the fee for small-value transactions to encourage more Filipinos to use digital payments and further promote financial inclusion in the country.
"For now, three of the major banks removed fees up to about PHP1,000, I think. We are trying to shame the other major banks into following the same," BSP Governor Eli Remolona Jr. said in a briefing Thursday at the sidelines of the 2023 Alliance for Financial Inclusion (AFI) Global Policy Forum at the Philippine International Convention Center, Pasay City.
Bank of the Philippine Islands (BPI), Metrobank, and Unionbank earlier announced the temporary waiving of transfer fees for small transfers.
For BPI and Metrobank, Instapay transfers of up to PHP1,000 made using their app will be free until September 30 this year.
Unionbank's free Instapay fund transfers on the other hand will be until November 11, 2023.
They are the only banks to do so after the BSP made a proposal earlier this year to remove fees for small-value online transactions.
Meanwhile, Remolona said the BSP is also pushing for more transparency in the payment system.
"In general, when it comes to payments, we want to make sure that the poor don't subsidize the rich. If you have a credit card, if you are a big spender, you get rewards. Who pays for those rewards? The small guys who only charge a small amount. So that's one thing that we are pushing for," he said.
"We also want the system to be transparent. If you're going to be charged for something, you want to know what you are being charged for," he added.
Remolona said the BSP will have a discussion with the Bankers Association of the Philippines (BAP) to discuss these issues.
Financial inclusion
Remolona meanwhile reiterated the importance of pushing for financial inclusion.
"Like my predecessors, I am fully committed to broaden and deepen the reach of financial inclusion, toward financial health, resilience, and a better life for millions of Filipinos," he said in his speech at the event.
Remolona added that while there are challenges to financial inclusion, there are some that present both risks and opportunities.
"Among others, the pandemic-induced lockdowns that kept people indoors caused business closures and job loss. But the same lockdowns triggered a boom in online selling and digital payments for goods and services from businesses that were quick to adapt to mobility constraints," he noted.
This raised the share of digital transactions to retail payments in our country from 14 percent in 2019 to 42 percent in 2022.
He said the government also used digital accounts to distribute cash assistance during the pandemic.
"As a result, mobile wallet ownership surged from 8 percent in 2019 to 36 percent in 2021. This helped raise the overall number of Filipinos with transaction accounts from 29 percent in 2019 to 56 percent in 2021 - equivalent to 22 million Filipinos who became financially included in the span of two years," he said.
"Transaction accounts are gateways to financial inclusion. We have seen depositors improve their lives from gaining access to other financial services, such as loans, insurance, and investments," Remolona said.
About 700 delegates from over 70 countries attended the 2023 AFI Global Policy Forum, which was co-hosted by the AFI, the world's leading organization on financial inclusion policy and regulation, and the BSP.
"In the 15 years since AFI was created, with substantive support from the BSP, our members have brought over 840 million people into the financial system via enlightened national policies and strategies on financial inclusion," said Dr. Alfred Hannig, AFI Executive Director.
"Yet a quarter of adults remain excluded and vulnerable. By convening the global AFI Network in Manila, we can galvanize efforts to achieve full inclusion which leaves no one behind," he said.
Hannig said AFI recently approved the Manila Manifesto which documents the commitment of AFI members to broaden and deepen cooperation with global participants in financial inclusion.
In the manifesto, AFI members committed to bring the voice of developing and emerging countries into the continuing discussion on the application of global standards and their implications for financial inclusion of individuals and micro, small, and medium enterprises and gather evidence on the impact of global standards on promoting financial inclusion.
They also committed to engage the standard-setting bodies and other relevant international bodies on how financial inclusion considerations can be further factored into the global standards. (PNA)