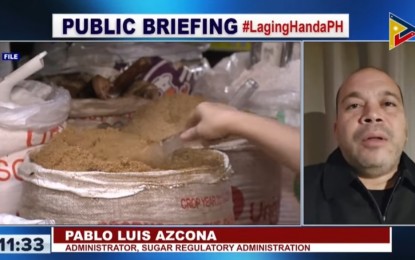 MANILA – The Sugar Regulatory Administration (SRA) on Thursday said the country's estimated total sugar production of PHP1.85 million metric tons (MT) this year might be affected by the El Niño phenomenon.
"There is a possibility that the estimated 1.85 million metric tons (MT) will decrease between 10 to 15 percent depending on the forecasted El Niño, it will depend on the effects to our sugar canes," SRA chief Pablo Luis Azcona said during the Laging Handa briefing.
This year's projected total sugar production volume is higher than the 1.799 million MT recorded in 2022.
To date, the SRA chief noted that the country is not yet affected by the long dry spell.
"Right now we are okay. We expect the El Niño in November up to January based on the forecast of PAGASA (Philippine Atmospheric, Geophysical, and Astronomical Services Administration). We will monitor the severity of this and we will see if it will bring about a decrease in the estimated production or not," Azcona added.
He said the crop year for the sugar industry has started this month and will end on Aug. 20, 2024.
"The crop year started on September 1, also the sugar mills started early this month. Right now we are in the beginning of harvest season, the farmers' yield per hectare seems to be okay. The only thing that scares us is the effect of El Niño," he said.
He said the country has buffer stocks for raw sugar and refined sugar.
"We will have at least two months buffer stock on raw sugar and we also have sufficient buffer stock on refined sugar," Azcona said.
Meanwhile, he noted that they continue to help sugar farmers to increase production.
"Right now we are pushing to improve production since our farm gate price has also stabilized, we have seen an increase in area in various places which is a good sign. The inputs in fertilizers have also increased so the farmers are spending on their fields because they are hopeful at the farm gate," he said.
"On the SRA side, we're continuing our block farm program where we organize farmers with 1 to 2 hectares into block farms of 30 hectares or more. We provide cash assistance for their start up capital, we also provide brand new tractors. Right now, our aid from Japan has arrived, and Japan has given 80 plus tractors with implements to the amount of somewhere around PHP300 million for the improvement of mechanization and production of our small farmers," Azcona added. (PNA)