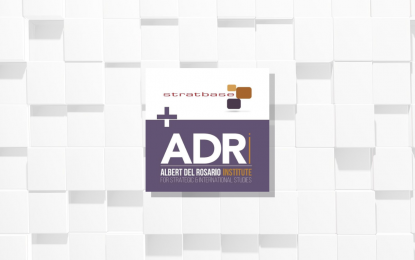 MANILA – The Association of Southeast Asian Nations (ASEAN) needs to ensure a strong enforcement mechanism of the Code of Conduct in the South China Sea and build alliances with like-minded states to resolve territorial disputes in the region.
This was emphasized by former senator and defense secretary Orlando Mercado during Thursday's forum titled "Maritime Cooperation in the Indo-Pacific: The Role of ASEAN and its Dialogue Partners" organized by the Stratbase ADR Institute (ADRi).
"The organization [ASEAN] must develop mechanisms to enforce agreements and decisions in ensuring accountability. It is also critical that the new ASEAN way or whatever we may change in the ASEAN way, should actively seek strategic alliance with like-minded external powers to uphold a rules-based international order," Mercado said in a statement released by the group on Friday.
"This is not Cold War 2.0. Our alignment may put Southeast Asia in a more precarious position caught between two rival superpowers. However, in resolving the South China Sea disputes, it is very important that we strengthen the enforcement mechanism of what we agree upon, enhance dialogue forums, strategic alliances, and develop a comprehensive regional security framework," Mercado noted.
In a speech at the 43rd ASEAN Summit last week, President Ferdinand R. Marcos Jr. said there has been some progress in the negotiations for a Code of Conduct in the South China Sea, which aims to prevent conflicts and maintain peace and stability amid territorial disputes of some member states with China.
However, Marcos also admitted that the goal of making the South China Sea an area of peace and stability remains distant.
Similarly, Stratbase ADRi president Victor Andres "Dindo" Manhit noted that ASEAN states are facing major hurdles in finalizing a Code of Conduct in the South China Sea.
He then called on all claimant states "to cooperate in this matter, consistent with the rule of law and through peaceful and legally binding negotiations".
"Furthermore, states must also be up to the challenge of developing effective measures in the South China Sea to prevent aggressive and coercive states from unilaterally asserting selfish claims. In doing so, states with rightful claims must not be afraid to condemn expansionist activities in their respective territories, as the rule of law is on our side. We are on the right side of history and we shall not allow other states to take this away from us," Manhit said.
Meanwhile, international non-government organization Konrad-Adenauer-Stiftung's country director in the Philippines Daniela Braun said the Code of Conduct in the South China Sea should be binding and should be based on the United Nations Convention on the Law of the Sea (UNCLOS).
"It should be legally binding, whatever that means. Of course, it is a major challenge. What are the mechanisms in place if countries are not following it? Germany is a strong supporter of the rules-based international order. It is very much in favor that the code of conduct is on the basis of UNCLOS," Braun explained. (PNA)