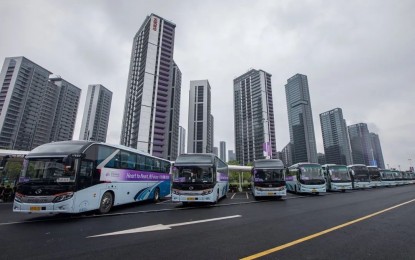 MANILA – Gilas Pilipinas is not the only team being appealed upon by the Philippine Olympic Committee (POC) to have replacements approved.
POC president Abraham Tolentino said Friday that athletes from gymnastics, golf, fencing and football also want to have replacements ahead of the Hangzhou, China Asiad that will fire off Sept. 23.
In the case of the women's football team, or the Filipinas, Tolentino said that there is a huge chance that the appeal might be granted since the replacement player ruling in the event is different from the other sports.
"Nasa playbook nila 'yun na (It's in their playbook that) six days before the first game, they can replace [players]," Tolentino said during the Pandesal Forum at Kamuning Bakery Cafe in Quezon City.
The Filipinas' campaign will begin against Hong Kong the day before the opening, which means they can still shake up their final lineup until Saturday.
However, it's in the other four sports that the POC is pushing hard since they have stricter rules.
"All the rest, walang ganoon (there is no such rule)," Tolentino added.
The POC is appealing that men's basketball team's Calvin Abueva and Jason Perkins replace Brandon Rosser and Jamie Malonzo due to injuries.
Abueva and Perkins were not listed in an initial 60-man pool, the basis for the final 12, that the Samahang Basketbol ng Pilipinas handed to the POC.
If the Hangzhou Asian Games Organizing Committee (HAGOC) turns down the appeal, Stanley Pringle will step in as the official member, but that could also mean Gilas might play with only 11 players if Abueva and Perkins are both denied.
Pringle was designated as a reserve player in the list of coach Time Cone.
Tolentino said the POC meets with HAGOC again on Sunday. (PNA)