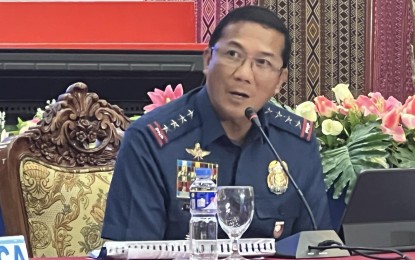 MANILA – Philippine National Police (PNP) chief Gen. Benjamin Acorda Jr. on Friday ordered all police regional offices to strengthen their campaign against cybercrimes.
In a press briefing in Camp Crame, Quezon City, Acorda underscored a "worrisome trend" in the prevalence of cybercrimes in the country.
"That's why one of our instructions is really to dissect further these crime statistics on cyber and one of the solutions we are looking at because as of now, we only have the ACG (Anti-Cybercrime Group). We are also adopting a best practice of the NCRPO (National Capital Region Police Office) where we are capacitating their investigation on cybercrimes. So we intend to duplicate that in other regions by capacitating also if possible the soonest. We will do (it) in stations but this entails training, tools and equipment," he said.
The NCRPO has earlier ordered the creation of an anti-cybercrime desk in all police stations in the region to strengthen the campaign against crimes perpetrated online.
It has also established a process flow diagram where the assessment of walk-in complaints and those sent via short messaging system (SMS), e-complaint desk, e-complaint text/hotline number and other means must be properly addressed by the duty officer or the duty personnel.
Presidential Anti-Organized Crime Commission (PAOCC) Undersecretary Gilbert Cruz, also a retired police official, earlier said the proliferation of online scams is now worse than the country's illegal drug problem.
In the first eight months of 2023, the PNP-ACG investigated a total of 16,297 cybercrime cases.
It also issued 19 warrants to search, seize and examine computer data, served 214 arrest warrants, conducted 140 entrapment operations and provided technical assistance to 24 ongoing investigations by other units and agencies.
These efforts have resulted in the arrest of 397 individuals and the rescue of 4,092 victims, mainly during operations against human trafficking, the ACG added.
The top 10 cybercrimes reported to the ACG are online scams, illegal access, computer-related identity theft, automated teller machine/credit card fraud, cyber threats, data interference, photo and video voyeurism, computer related fraud and unjust vexation.
This surge in cybercrimes is closely tied to the increased reliance on the internet for various commercial activities.
"These cybercrime incidents are not static; they evolve with technology. This year, cybercriminals have exploited emerging technologies like Non-Fungible Tokens (NFTs), cryptocurrencies, and online casinos to defraud unsuspecting victims. Online scams, in particular, have become the most prevalent type of cybercrime, reflecting the changing landscape of digital threats," ACG chief Brig. Gen. Sidney Hernia said in a separate statement.
Meanwhile, Acorda said the ACG continues to expand its efforts to combat cybercrimes which include close monitoring of illegal activities such as e-sabong, intensifying cyber patrol operations against terrorism and fake news on social media platforms and conducting digital forensic examinations to gather evidence against cyber criminals.
"The achievements of the Philippine National Police Anti-Cybercrime Group in solving cases and safeguarding the digital realm are a display of our focused agenda on advancing our information and communication technology for the conduct of honest and aggressive law enforcement operations," he added. (PNA)