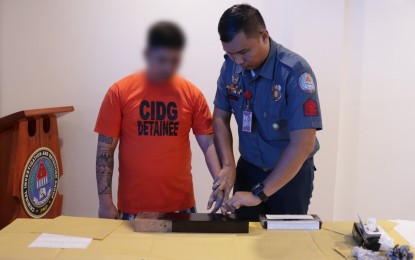 MANILA – Members of the Criminal Investigation and Detection Group (CIDG) arrested six suspects in the case of missing "sabungeros" (cockfighting enthusiasts) in Parañaque City on Friday.
In a press briefing in Camp Crame, Philippine National Police (PNP) chief Gen. Benjamin Acorda Jr. said the suspects Julie Patidongan alias Dondon, Mark Carlo Zabala, Roberto Matillano Jr., Johnry Consolacion, Virgilio Bayog and Gleer Codilla were arrested in an operation by members of the CIDG-Calabarzon in two separate locations inside the Jackielou Village and Fortunata Village at around 1:45 p.m.
The suspects have an arrest warrant for kidnapping and serious illegal detention issued by the Manila Regional Trial Court Branch 40, in connection with the abduction of six "sabungeros" at the Manila Arena on Jan. 13, 2022.
Two companions of the suspects identified as Melchor Neri and Victorino Diocoso were also arrested for obstruction of justice.
The suspects were taken to the CIDG headquarters in Camp Crame for booking procedures and would be turned over to its Calabarzon office.
"I hope that with the arrest of these suspects, those who reportedly backed out as witnesses may reconsider their position and I do believe the case is still strong. We have enough evidence to continue with the case even if some witnesses already backed out," Acorda said.
Acorda also expressed hope that the suspects' arrest proves that the PNP "has not reneged on its commitment to pursue this case until justice is served."
Col. Jack Malinao, chief of the CIDG Regional Field Unit 4A, said they were only able to establish the pattern of the suspects' movements during the last three days of their nearly two-month surveillance activities.
"We cannot divulge our methodologies. We executed 24-hour surveillance and intelligence operations for the past three days and this time, we tracked their location in Paranaque City in two separate places," Malinao told reporters.
Malinao, however, said they have yet to obtain information from the suspects regarding the victims' whereabouts.
"Wala pa tayo sa phase na yan (We're not at that phase yet) that will be another subject of a continuing investigation by the SITG (Special Investigation Task Group) Sabungero but for today's activity, we are just focused on the manhunt operation to bring them to the jurisdiction of the court so that the case would proceed," Malinao said. (PNA)