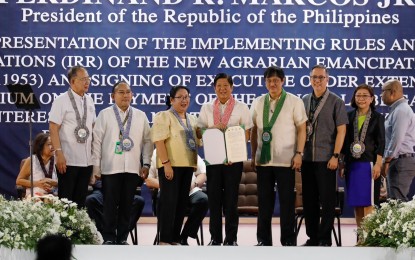 BUTUAN CITY – Landowners in the Caraga Region heaved a sigh of relief after the issuance of Executive Order (EO) 40 that extends by two years the moratorium on the payment of the principal obligation and interest of the amortization due and payable by agrarian reform beneficiaries.
Reynaldo Maido, an agrarian reform beneficiary (ARB) from Veruela, Agusan del Sur, said the EO is a big help with the El Niño fast approaching.
"We will be facing some difficulties due to the effects of the drought and we still feel the effects of the recent pandemic," Maido, who also chairs the La Fortuna Multi-Purpose Cooperative (LFMPC), said in a phone interview on Saturday.
The LFMPC has 208 members, 60 percent of whom are ARBs who are still paying the Land Bank of the Philippines (LBP) for the land they till.
"The two-year moratorium will really matter. Instead of paying our due and demandable obligations to the LBP, we can utilize our income to develop our farms further," Maido added.
Another ARB, Lourma Cuyno from Tagbina, Surigao del Sur, is relieved that she can still pay her PHP65,000 due in installments.
"The moratorium will help me improve my farm," said Cuyno, who was awarded her one-hectare property under the Comprehensive Agrarian Reform Program (CARP) in 2000. "I encountered some difficulties in my payments, especially during the pandemic. Farm production at that time was so difficult."
She thanked President Ferdinand R. Marcos Jr. and Department of Agrarian Reform (DAR) Secretary Conrado Estrella III for the programs and services that assist ARBs.
Recent data provided by DAR 13 (Caraga) indicated that 10,945 ARBs in the region still have a total outstanding obligation of PHP1,001,753,813 this year, payable to LBP.
Of the total amount, PHP474,493,176 are principal obligations with a total interest of PHP527,260,637.
EO 40 extends until Sept. 13, 2025 the previous EO 4 that imposed a one-year moratorium.
Under Republic Act (RA) 11953 or the New Agrarian Emancipation Act, individual ARB loans, including interests, penalties and surcharges, were condoned and written off, and ARBs were exempted from the payment of state tax on agrarian reform lands secured under the CARP or other agrarian programs, which were due and payable by covered ARBs as of the law's effectivity on July 24, 2023.
"I call upon the beneficiaries to utilize your lands not only to cater to your families but also for the rest of the nation," Marcos said during the presentation of RA 11953's implementing rules and regulations and signing of EO 40 at the DAR central office in Quezon City on Sept. 12, a day before he turned 66. (PNA)