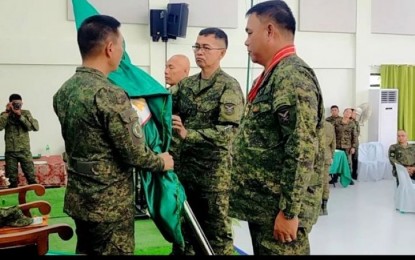 DAVAO CITY – Former assistant division commander Brig. Gen. Allan Hambala was formally installed on Friday afternoon as the new commander of the 10th Infantry Division (10ID).

Hambala replaced Maj. Gen. Jose Eriel Niembra who retired from the service after reaching the mandatory age of retirement, during the change of command ceremony held at the Agila Hall, Camp Gen. Manuel T. Yan Sr. in Mawab, Davao de Oro.

Before this appointment, Hambala served as the assistant division commander of the 10ID from November 2021 to September 2023.
In his speech, Hambala said with his new designation, he faces the greatest challenge of maintaining the insurgency-free status of the Davao region, which was declared last year.
"I'm soundly aware of the great responsibility that has been entrusted to me today and also be reminded of the challenge on how to spread the wings of the Agila Division soar higher and reach new heights," he said while addressing the officers and men of the division.
The ceremony was also attended by former president Rodrigo Duterte and the Philippine Army's Commanding General, Lt. Gen. Roy Galido.
Hambala pledged to continue the program and activities of his predecessor to maintain the insurgency-free status of the areas covered by the division in the Davao region.
He also appealed for the cooperation and assistance of stakeholders to prevent the remnants of NPA's Southern Mindanao Regional Party Committee from regrouping and recruiting in the region.
"As long as there are exploitable issues that haven't been addressed, the threat of insurgency is always there," Hambala warned.
During the ceremony, 10ID officers and personnel also paid tribute to Niembra after 36 years of service.
Duterte, who was the guest of honor at the event, lauded Niembra's leadership and accomplishments in the fight against insurgency, terrorism, and other threats to national security.
"I give my utmost thanks to Maj. Gen. Niembra for your unwavering dedication, outstanding leadership, and tireless commitment during your tenure as commander of the 10th Infantry Division. The entire Filipino people are indebted to your service," Duterte said.
It was during his tenure when Eric Jun Casilao, alias Elian, the Secretary of the Southern Mindanao Regional Committee, was neutralized.
Meanwhile, Galido also recognized Niembra's sacrifice and contribution to the Armed Forces of the Philippines.
"There is always personal sacrifice. The personal sacrifice Gen. Niembra gave to serve the people cannot be equated to the number of medals we have given to him. The sacrifice of the family cannot be equated by the loud applause. It's really difficult. But what gives us a sense of satisfaction is when we see people we have served well, and when we see our men become better public servants," he said. (PNA)