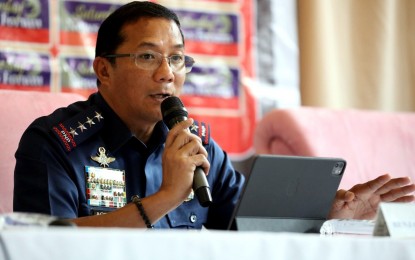 MANILA — The crime rate in the Philippines has dropped by 7.84 percent, Philippine National Police (PNP) chief Gen. Benjamin Acorda Jr. said on Saturday.
"I'm pleased to announce that the overall crime rate has a significant decrease this year. From Jan. 1 to Sept. 15, 2023, we recorded 11,975 fewer incidents compared to the same period last year. This represents a 7.874-percent drop in the crime rate," Acorda said in a weekly news forum in Quezon City.
The PNP recorded year-to-date crime incidents at 140,778, down from 152,753 posted in the same period last year.
Acorda attributed the significant decline to the PNP's continuing efforts to combat crime and maintain peace and order.
He said the campaign against illegal drugs has also shown "remarkable progress," noting the seizure of over PHP7.2 billion worth of illegal drugs during the conduct of 34,496 operations since the start of 2023.
Acorda said the conduct of "aggressive and honest" law enforcement operations also led to the arrest of 54,653 individuals, including "56 wanted persons with rewards."
He added that the campaign against loose firearms resulted in the recovery and surrender of 34,404 firearms.
Acorda said the PNP also intensified its presence and visibility in crime-prone areas and other public convergence points.
"In the realm of maintaining peace and order, the Philippine National Police has been tirelessly working to ensure the safety and security of our beloved nation," he said.
"I want to express my deepest appreciation to the dedicated men and women of the Philippine National Police for their unwavering commitment to duty," Acorda added.
He likewise vouched for the integrity of over 226,000 PNP personnel, lauding them for being "honest and upright" and for their commitment to fulfilling their duties.
The top cop, however, acknowledged the existence of rogue police officers and vowed to act on them.
"We are taking decisive actions to address them. Our commitment to cleansing our ranks remains steadfast. From Jan. 1, 2022 to Aug. 30, 2023 we have resolved 4,082 cases involving our personnel, resulting in appropriate penalties and disciplinary actions," Acorda said.
Acorda also noted that the PNP has conducted nearly 116,000 random and mandatory drug tests, as part of its integrity enhancement program.
Any personnel found positive for illegal drug use were dismissed fast from the police service, Acorda said. (PNA)