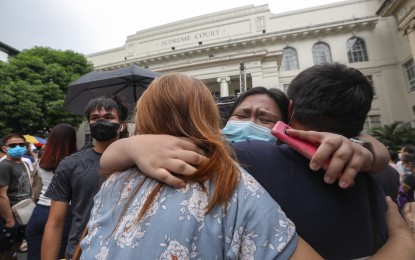 MANILA – Aspiring lawyers take the first of their final three steps toward the legal profession as the 2023 Bar examinations begin Sunday in 14 venues nationwide, including six in the National Capital Region.

A total of 10,816 candidates are expected to take the exams that will commence 8 a.m.
Two more exam days follow on Sept. 20 and 24.
The Supreme Court (SC), through the Office of the 2023 Bar Chair, said of the total examinees, 5,832 will be taking the Bar for the first time while 4,984 will try for at least the second time.

An estimated 2,571 Bar personnel will be deployed nationwide to the national headquarters (San Beda College Alabang in Muntinlupa City) and 14 local testing centers (San Beda University and University of Santo Tomas in Manila; San Beda College Alabang; University of the Philippines (UP) – Diliman in Quezon City; Manila Adventist College in Pasay City; and UP – Bonifacio Global City in Taguig City (Metro Manila); Saint Louis University, Baguio City; Cagayan State University, Cagayan province; and University of Nueva Caceres in Naga City, Camarines Sur (Luzon); University of San Jose – Recoletos and University of San Carlos, Cebu; and Dr. V. Orestes Romualdez Educational Foundation in Tacloban, Leyte (Visayas); and Ateneo de Davao University - Senior High School in Bangkal, Davao City and Xavier University - Ateneo de Cagayan in Cagayan de Oro City (Mindanao).
The Bar staff include court officials; judges; numerous personnel from SC, Court of Appeals, Sandiganbayan, Court of Tax Appeals, and First- and Second Level Courts; and government and private practice lawyers.

This year's Bar examinations are divided into six core subjects: Political and Public International Law (15%) and Commercial and Taxation Laws (20%), first day; Civil Law (20%) and Labor Law and Social Legislation (10%), second day; and Criminal Law (10%) and Remedial Law, Legal and Judicial Ethics with Practical Exercises (25%), last day.

SC Associate Justice Ramon Paul Hernando, chairperson of the 2023 Bar examinations, said there are daily and close monitoring of the applicants' responses and feedbacks.
"We connect with the Bar takers through the hard work that we share. To be with our baristas is our way of giving them a feeling of enlightenment, comfort, a boost of confidence, and a push to proceed and succeed," Hernando said in a previous statement.
Rerouting
Road closures will be implemented in the vicinity of the testing sites -- 2 a.m. to 7 p.m. around San Beda Manila; 3:30 a.m. to 9 a.m. and 3:30 p.m. to 7 p.m. around UST and UP Diliman; 3 a.m. to 8 p.m. around Manila Adventist; and 4 a.m. to 8 a.m. and 4 p.m. to 8 p.m. around UP Taguig; 12:01 a.m. to 7 p.m. around University of Nueva Caceres; 4 a.m. to 7 p.m.around Dr. V. Orestes; and until 8 p.m. around Ateneo - Xavier.

From 3 a.m. to 8 a.m. or until all examinees are already inside San Beda Alabang, Don Manolo Boulevard shall be accessible only to Bar takers, and Alabang Hills Village residents, pass-thru sticker holders and other authorized personnel like residents' house help, drivers, construction workers, and those with SC access, gate, and car passes.
There will be no road closures but traffic congestion is expected near Saint Louis, Cagayan State U, the two Cebu venues and Ateneo de Davao.
There were 3,992 passers out of 9,183 who completed the four-day November 2022 Bar exams, or a passing rate of 43.47 percent.
UP graduates occupied the top five, led by Czar Matthew Gerard Dayday who scored 88.80 percent.
Second-ranked Erickson Mariñas was not too far behind at 88.76.
Ateneo de Manila had the best passing rate of 96.74 percent among schools with at least 100 takers. (PNA)