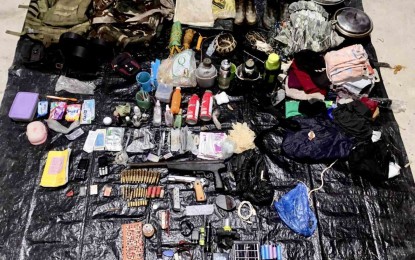 BACOLOD CITY – Troops of the Philippine Army's 15th Infantry Battalion (IB) discovered a hideout of the Communist Party of the Philippines-New People's Army (CPP-NPA), following a clash in the hinterlands of Sipalay City, Negros Occidental.
The encounter in Sitio Tunap, Barangay San Jose past 3 p.m. Saturday transpired after residents informed soldiers of the presence of armed men asking for food and recruiting residents to join the rebel movement.
"The cooperation of the locals demonstrates their willingness to prevent the resurgence of the armed group in their community and their unwavering commitment to fight terrorism and maintain their safety," Lt. Col. Michael Cuarteros, commanding officer of the 15IB, said in a statement Saturday night.
As of Sunday morning, some 38 families from Sitios Atoy-atoy and Patio-tio in the border village of Gil Montilla were still in evacuation centers but were preparing to return home by noontime.
The City Social Welfare Development Office provided assistance to the displaced families.
In a report, the 15IB said the troops engaged for about 10 minutes some 15 members of Platoon 3 of the weakened NPA South West Front, but the rebels eventually fled, leaving blood stains on their trail.
Military working dogs were dispatched to track the rebels' withdrawal route and to detect presence of anti-personnel mines, it added
The soldiers recovered a caliber .45 pistol and a homemade shotgun with ammunition along with a mobile phone with memory card, transistor radio, 200 meters of electrical wire, solar panel and medical paraphernalia.
Other items seized were flashlights, hammocks, poncho tent, rain boots, jungle packs and subversive documents.
Cuarteros said government troops will continue to intensify efforts to dismantle rebel groups and bring peace and stability in the area.
"The Army, together with the local government unit, urges the remaining CPP-NPA members to give peace a chance by surrendering now," he said.
In a separate statement, Maj. Gen. Marion Sison, commander of the 3rd Infantry Division, commended the troops for their "persistent and unwavering determination" to pursue the remaining communist rebels in Negros.
"There will be no letup in our focus military operations until they will have no place to hide," he said.
In January this year, an encounter also took place in Barangay San Jose's Malipayon sub-village during the pursuit operation for rebels from the NPA's South West Front.
A soldier of 15IB was injured, hundreds of residents were displaced and classes were canceled. (PNA)