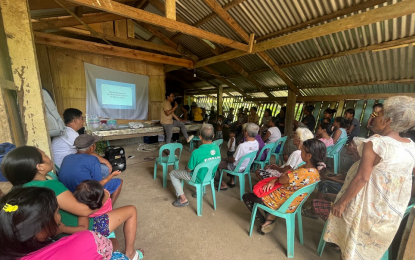 LIPA CITY, Batangas – The Department of Agriculture in the Calabarzon Region (DA-4A) is offering farming seminars on modern farming techniques to Indigenous Peoples (IPs) as part of the Marcos administration's efforts to achieve food security and economic stability in communities.
In an interview on Sunday, Antonio Zara, the DA's regional focal person for the "Kabuhayan at Kaunlaran ng Kababayang Katutubo" (4K) program, said his office has just concluded training 52 indigenous farmers on organic vegetable production and botanical concoction in Gen. Nakar, Quezon Province.
"We are increasing the knowledge of our (IP) farmers with the help of advanced technology and certified vegetable scheme so that they can have a better harvest," he said.
Zara added that the same seminar is already scheduled for IPs in the Polillo Group of Islands, also in Quezon, following the issuance of the certificate of ancestral domain title from the National Commission on Indigenous Peoples.
Zara said the training help address nutritional gaps in the IP family's diet and expose participants to leadership, management, and entrepreneurial concepts.
The department's strategy also includes a marketing component where indigenous farmers attend business lectures.
Zara is hopeful that the new generation of farmers is committed to using upgraded systems, like organic agriculture technology.
"We also provided vermicomposting facilities and wood vinegar instead of using insecticides," he added.
He said education is "a great equalizer" and is urging the young indigenous farmers to study and later help their origin communities in order to preserve their national identity.
Benjamin Dela Cruz, a 69-year-old native farmer, expressed his gratitude to the efforts of the DA-4A, despite the distance and difficulty of the journey to their communities.
"This is a big help to the indigenous farmers to develop their respective farmlands here," he said in Filipino. (PNA)