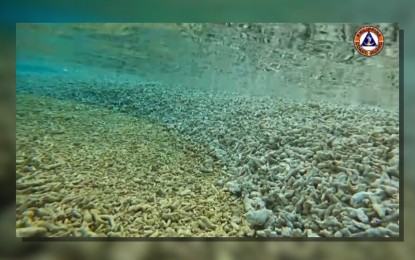 MANILA – The Philippine Coast Guard (PCG) on Monday said its underwater survey showed "extensive" damage on the seabed of Rozul Reef and Escoda Shoal, areas frequented by Chinese militia in the West Philippine Sea (WPS).
"The results of these surveys showed that the marine ecosystem in the subject WPS features appeared lifeless, with minimal to no signs of life," PCG spokesperson for the West Philippine Sea Commodore Jay Tarriela said in a statement, citing the results of the underwater surveys.
"The surveys conducted in Escoda Shoal revealed visible discoloration of its seabed, strongly indicating that deliberate activities may have been undertaken to modify the natural topography of its underwater terrain," he added.
Tarriela said the presence of crushed corals strongly suggested a potential act of dumping, possibly involving the same dead corals that were previously processed and cleaned before being returned to the seabed.
"The continued swarming for an indiscriminate illegal and destructive fishing activities of the Chinese Maritime Militia in Rozul Reef and Escoda Shoal may have directly caused the degradation and destruction of the marine environment in the WPS features," Tarriela said.
From Aug. 9 to Sept. 11, the PCG monitored about 33 Chinese militia vessels in the vicinity of Rozul Reef and 15 at Escoda Shoal.
During the same period, maritime patrols carried out by BRP Sindangan (MRRV 4407) and BRP Cabra (MRRV 4409) validated the presence of Chinese militias in these areas. (PNA)