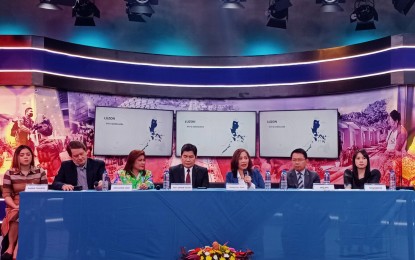 MANILA – The People's Television Network, Inc. (PTNI), or known as the PTV, is targeting to become the number two television network in the Philippines next year amid the reprogramming and modernization happening in the network.
PTNI General Manager Analisa Puod told on Monday the Senate Committee on Finance Subcommittee N chaired by Senator JV Ejercito that PTV is even leveling up to become the country's number one television network in the next few years.
"So far, the goal next year is to become number 2. Conservatively, yun po ang gusto naming ma-achieve and hopefully within the next few years po mag-number 1 ang PTV sa lahat ng TV stations sa buong Pilipinas (that's what we want to achieve and hopefully within the next few years, PTV will become number one in all tv stations in the Philippines)," Puod said.
"But of course, we can achieve that with the help of PCO [Presidential Communications Office] and syempre yung (of course the) financial support of the Congress -- both ng (of) House of Representatives and the Senate," she added, noting that the network still needs to transition from analog to digital transmitters to comply with the requirement of National Telecommunications Commission.
Puod told the sub-panel that PTV is targeting to put up 60 digital transmitters to cover the entire country, as well as its own broadcast complex within Metro Manila.
The PTNI currently has 16 analog transmitters all over the country.
"In order to create good content, we need capital, creatives, equipment, ideas, and kailangan po nating tapatan ng konting gastos para ma-achieve po yun (we need corresponding spending to achieve it)," she admitted saying each digital transmitter costs around PHP25 million.
"We need to build our own broadcast complex na pwede pong tumapat sa, kung kaya po (that could be at par with, if possible), if we can fund it, Warner Bros. or Universal Studios," Puod said, adding the complex will not only house the studio for the network's news content but also documentaries, community issues and other contents about cultural, educational, inspirational, sports and e-sports as well.
Agreeing to the plan, Ejercito said he believes it could help the government disseminate information in a wider reach especially during times of crisis and emergencies.
"Probably we can do that. Hindi naman biglaan (Not so sudden). Portion by portion, you probably can prioritize the regions first and I think we really need that right now especially during calamities, kailangan may broadcast talaga eh (broadcast is really needed)," Ejercito said.
Puod shared that they are currently working to allot one of PTV's four channels to become an exclusive regional disaster network which will broadcast calamities and disaster preventions and mitigations 20 hours per day.
With its 14 news programs recently launched, Puod said PTV plans to gain more viewership by organizing e-sports competitions and reviving the National Quiz Bee.
Senator Raffy Tulfo, who has also worked at PTV and a former colleague of Puod in TV5, expressed his full support to the proposed budget of the PTNI and the entire Presidential Communications Office (PCO).
"Paano niyo mapapaganda ang imahe ng administrasyon kung kulang po kayo sa budget, di ba? So mahalaga talaga yung budget (How can you enhance the image of the administration if you lack budget, right? So budget is really important). I fully support the budget of PCO especially PTV-4 na kung saan ako galing dati (where I came from)," Tulfo assured.
The PTNI is asking for a government subsidy worth PHP128.914 million to continue its modernization next year.
Established in 1974, the PTNI has become the country's premiere source of government news and information by operating under the implementing rules and regulations of Republic Acts (RA) 7306 and 10390. (PNA)