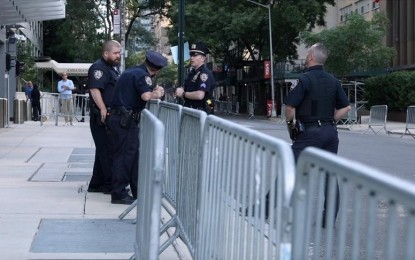 NEW YORK – The New York Police Department (NYPD) has tightened security, with several roads in Manhattan barricaded as over 150 heads of state and government officials, including non-government organizations' representatives and journalists gathered for 78th session of the United Nations General Assembly (UNGA) on Monday.
NYPD Police Commissioner Edward Caban said resources have been deployed throughout the city to ensure the event's safety.
"Every aspect of our department will be involved," Caban said, adding that "we will be working closely with the Secret Service, the State Department, the FBI and the UN Police."
The NYPD also encouraged New Yorkers to prefer public transportation over driving to reduce traffic congestion during the summit.
The New York City Department of Transportation has issued a list of Gridlock Alert days through the end of 2023. The coned lands and checkpoints will begin on Monday at 7 a.m. local time and will last until the end of the General Assembly on Sept. 26.
"There will be dedicated cone lanes to facilitate emergency vehicles and high-profile dignitary escorts," said NYPD Transit Division Chief Michael Pilecki.
Rodrigo Victor da Paixao, the UN's deputy chief of the Security and Safety Service, said the security officers are ready for their roles of safeguarding dozens of world leaders.
"From a UN Security point of view, it is all about building on what we do all year round and scaling up for GA week. September witnesses intensified efforts due to the sheer volume of participants. We have a thorough plan in place in the event that we need to transport several people to the hospital at once. There is also close cooperation with the NYC fire department, our medical service, and hospitals nearby," he said, adding that "we have prepared for all the worst-case scenarios."
Several protests on a host of topics, such as climate change, are expected to take place near the area around the UN headquarters in Manhattan.
The main General Assembly begins on Monday, and leaders will address the assembly starting on Tuesday.
UN Secretary-General Antonio Guterres will open the session at 9 a.m. local time (1300GMT), followed by the president of the 78th session of the UN General Assembly, Dennis Francis of Trinidad and Tobago.
As a tradition, Brazil will be the country to deliver the first speech at the General Assembly, followed by the US. (Anadolu)