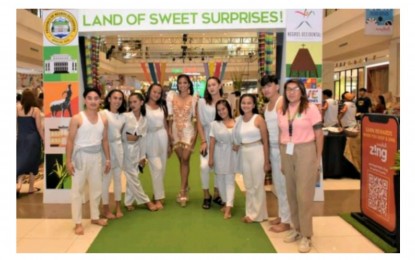 BACOLOD CITY – Negros Occidental has banned single-use plastics, sando bags, plastic straws and stirrers, plastic cups, and PET (polyethylene terephthalate) bottles during the week-long 2023 Provincial Tourism Week as provincial stakeholders are now "more discriminating and conscious of the environmental impact of their initiatives".
"While tourism ranks as among the highest revenue contributors in the country, it can also be a very invasive industry. This year's theme is a call to action for us in the industry and for our partners in both the government and the private sectors to consider our roles not only as a great privilege but all the more now a huge responsibility to be part of," Provincial Tourism Officer Cheryl Decena said in a statement on Monday.
Negros Occidental, known as the "Land of Sweet Surprises," is adopting various sustainable practices this Provincial Tourism Week, as local tourism officers are also "mindful of the dual impact of the industry", she added.
The celebration, now in its 23rd year and will run until Sept. 23 at the Ayala Malls Capitol Central, carries the theme of the Sept. 27 World Tourism Day of the United Nations World Tourism Organization (UNWTO), "Tourism and Green Investments".
The ban on the use of non-renewable materials is in compliance with Executive Order 23-39 issued by Governor Eugenio Jose Lacson.
Decena said that 90 percent of the invitations they sent were electronic (e)-invitations to save on printing paper, while they also collaborated with Ayala Malls for seedling donation.
"For every download of the mall's Zing mobile app (application), it would donate a seedling to be planted in Mambukal (Resort and Wildlife) Sanctuary during a tree planting activity," she added.
Doing away with the traditional ribbon-cutting rites, officials, led by Lacson, instead unveiled the welcome arc bearing the icons of the landmarks in Negros Occidental patterned after the Department of Tourism "Love the Philippines" slogan.
"These are baby steps in highlighting our roles as protagonists of environmental protection in our aim to achieve sustainability in all our tourism events," Decena said.
Lacson urged local government units to work together to implement the strong commitment of the provincial government to promote tourism as an engine of socio-economic growth and cultural affirmation aligned with the principles of sustainability and environmental responsibility.
"Investing in ecologically sound tourism is an important concept for a sustainable future. It means investing in tourism activities that are designed to reduce any negative environmental impacts while protecting natural resources and promoting the well-being of local communities, and advocating for sustainable practices," said Lacson in his message during the opening program.
The Negros Occidental Tourism Week features activities to experience the 13 cities and 19 municipalities of the province through arts, culture, festivals, and culinary offerings.
The event is a Hall of Fame awardee for Best Provincial Tourism Week Celebration in the Pearl Awards of the Association of Tourism Officers of the Philippines (ATOP) and the Department of Tourism (DOT). (PNA)