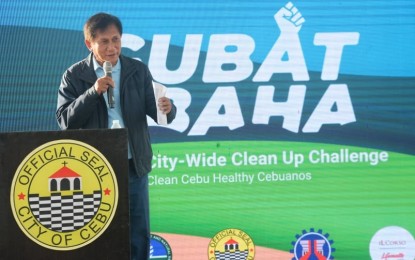 CEBU CITY – Big establishments with structures blocking waterways will be demolished as flood prevention, Cebu City Mayor Michael Rama warned Monday.
Rama issued the warning after last week's three-day weather disturbance brought severe flooding in the Banilad area, leaving 200 people displaced and several houses and vehicles submerged in floodwater.
"We are really into a massive and aggressive work to clear rivers and creeks of obstructions," Rama said in Cebuano.
The mayor said the city task force against flooding headed by former Environment Secretary Roy Cimatu is coming to Cebu to help them identify and implement the demolition of structures owned by establishments to address heavy flooding in the uptown district.
The city, he said, is aware that many of the establishments are owned by influential businessmen in Cebu.
He urged these businessmen whose establishments are obstructing waterways to voluntarily demolish their structures and expected them to yield to the common interest to address flooding.
Rama particularly mentioned the huge structure of a mall in Banilad that blocks a river. The netizens even called it the "lost creek".
Cimatu, according to Rama, received reports of severe flooding incidents that inundated many houses at the Sto. Niño Village and a mall in Banilad last week, forced rescuers to evacuate residents using rubber boats.
In December last year, Rama appointed Cimatu as a consultant for the environment and put him in a task force that will work with former Councilor Gerardo Carillo in implementing the mandatory three-meter easement along rivers and cause the transfer of tens of thousands of settlers to a safer place.
In February this year, President Ferdinand R. Marcos Jr. inaugurated a housing project at the South Road Properties (SRP) that will serve as the relocation site for riparian settlers.
The task force, he said, will revisit the interventions that he pushed early this year that will lead to the demolition of walls, structures, human pathways, and houses built in violation of the statutory easement.
"We will demolish. I am telling OBO (Office of the Building Official) and Planning (Cebu City Planning and Development Office) to revisit all the interventions that I wanted to be implemented until they are implemented… No sacred cows," Rama stressed. (PNA)