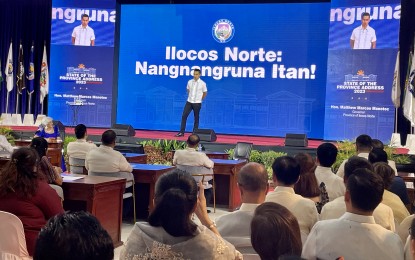 LAOAG CITY – The previous year saw Ilocos Norte gain a foothold on agriculture development as well as poverty and crime eradication.
Governor Matthew Joseph Manotoc on Monday said they continue to make strides despite a number of calamities that left billions of pesos in damage.
"With every disaster, we are reminded and overwhelmed by our people's resilience -- that trademark Ilokano resilience that is not only defined by our ability to withstand but also by our determination to build back better," Manotoc said in his State of the Province Address at Plaza Del Norte Convention Center here.
As he enumerated the achievements of every Capitol department, particularly in areas of relief operations, agriculture, health, tourism, micro, small, and medium enterprises, infrastructure, employment, and transportation, Manotoc said Ilocos Norte has remained the least poor province in the region with a 2.5 percent poverty rate because of the support and cooperation of all sectors, both in government and private.
For 2022, Ilocos Norte was relatively peaceful with a crime clearance efficiency of 99 percent while the crime solution efficiency is at 82 percent.
Proof of these accomplishments was the Ilocos Norte Police Provincial Office being recognized as an outstanding police provincial office in the entire country this year, Manotoc said.
In agriculture, Manotoc said that through the province's "Agri Ka Dito" program, farmers here received almost PHP176 million worth of assistance in 2022 which included 10 combine harvesters, 39 four-wheel tractors, 50 hand tractors, 21 multi-cultivators, 3 shredding machines, 2 rice planters and 17, 276 units of small farm equipment.
About PHP14.5 million worth of fishing paraphernalia was also distributed to 1,300 fisherfolk.
"From a total of 83 completed farm-to-market road projects in 2021, at least 31 are ongoing," Manotoc said, adding that a total of 153 units of small farm reservoir serving an area of 459 hectares have been constructed to boost farmers' productivity.
Also completed were 13 solar-powered irrigation systems and the construction of 20 multi-purpose dying pavements, while over PHP27 million of aid for clustered high-value crops farming benefited 32 associations.
With the rising cost of fuel, 2,000 farmers were granted fuel subsidies even as the province in now free from African swine fever, said Manotoc.
"These achievements are making a positive and lasting impact on our people and their livelihoods. Agriculture will always remain first and foremost for Ilocos Norte," he said. (PNA)