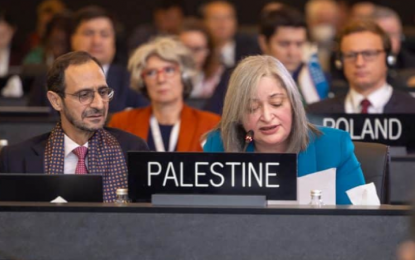 RABAT – The United Nations Educational, Scientific and Cultural Organization (UNESCO) World Heritage Committee has announced that the Palestinian site "Tel Sultan-Jericho" won a majority of votes, making it the first Arab site to be added to the UNESCO list in the 45th session held in Riyadh on Sunday.
In a statement to the Saudi Press Agency (SPA), Mounir Anastas, the Permanent Representative of Palestine to UNESCO, expressed his pride in this historic success which "is credited to all Arabs, especially the Kingdom of Saudi Arabia, which made every effort to host the session, and spared no effort to support the Palestinian cause in all international platforms."
The Director General of World Heritage in Palestine, Dr. Ahmed Rajoub, said the city of Jericho is an example of the first and oldest political, social and administrative system in the world.
Rajoub said it is not only the oldest walled city in the world, but also the lowest ancient walled city in the world, and the oldest political, social, and economic system and religion in the world, which proves its role in the development of human civilization.
He noted that this cultural victory has other economic and social dimensions, as Palestine does not have sources or resources, but it is rich in its cultural, religious and natural heritage, and registering Jericho on the World Heritage List will bring economic benefit.
Due to the doubling of the number of visitors to this site, it also fundamentally improves the community's income and reflects on the well-being of the people of Jericho and the Palestinian economy in general.
Since early in the committee's meeting in Riyadh, Arabs and Palestinians have been awaiting the decision of UNESCO to recognize Jericho as a World Heritage Site at the meeting held between Sept. 10 and 25, amid opposition from the Israeli side.
Palestine said its archaeologists confirm that Tell al-Sultan is the oldest fortified city in the world, and a site that tells the story of human history through remains dating back to the Neolithic era and continuing until the Byzantine era. Its terrain also includes a huge circular tower, in addition to walls to protect the site.
The place was under excavation for more than a century and resulted in the remains of a fortified city that considers itself the oldest inhabited city on the planet, which encouraged the international organization to classify it on the World Heritage List.
The Palestinian delegate to UNESCO said ancient Jericho will be the fifth Palestinian site on the World Heritage List, noting that three of those sites are on the endangered list and two sites are on the regular list, indicating that the most important site for humanity of those sites in historical aspects related to the three heavenly religions is Old Jerusalem. (UNA)