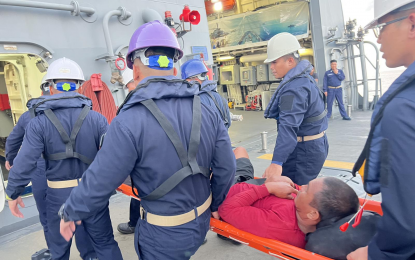 PUERTO PRINCESA, Palawan – Crew members of the Philippine Navy (PN) frigate BRP Antonio Luna rescued a Filipino fisher in a near-fatal accident in the waters near Sabina Shoal in the West Philippine Sea (WPS).
Commander Ariel Joseph Coloma, Western Command (Wescom) spokesman, said in an interview Monday that Sonny Agting's leg was hit by the propeller of his boat as he was fishing on Sunday.
Coloma said the BRP Antonio Luna was conducting a routine maritime and sovereignty patrol not too far from the accident site and received a distress call from the crew of fishing boat FFB Camano 1, of which the 46-year-old Agting was a member.
Capt. Clyde Domingo, the skipper of the frigate, reported to Wescom headquarters that his crew changed their route and steered toward the fishing boat's position immediately after receiving the call for help.
The Navy personnel then deployed a rigid inflatable boat carrying a rescue team to transfer Agting from his boat to their vessel for urgent medical attention.
"Despite our distance from the distressed fishing boat, we acted as fast as we could to provide immediate assistance to the injured Filipino fisherman," Domingo said.
Doctors aboard the frigate then administered emergency medical care to Agting, while the ship quickly sailed back to mainland Palawan to deliver the patient to a hospital.
The fisherman was admitted to a hospital in mainland Palawan on Monday after a more-than-250-km. trip from Sabina Shoal. He is now in the company of family members. (PNA)