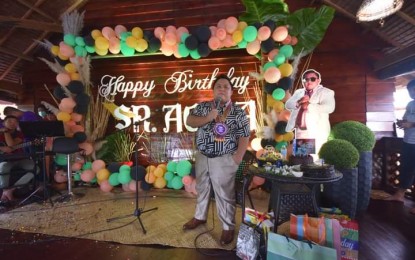 MANILA – The Senate Committee on Women, Children, Family Relations and Gender Equality has been asked to investigate cases of rape, sexual abuse, forced labor and child marriages by an alleged cult in Socorro, Surigao del Norte.
The reported cult, identified as the Socorro Bayanihan Services, Inc. (SBSI) or Omega de Salonera to its followers, has been made to believe that one Jey Rence "Senior Agila" Quilario is the messiah.
The organization now has 3,650 members, including 1,587 children, based in an enclosed and heavily guarded area on a mountain known as Sitio Kapihan in Socorro town, according to Senate Resolution No. 797 filed by Senator Risa Hontiveros.
"Nakakakilabot ang nabuong kulto sa Surigao. Pero mas nakakakilabot at nakakagalit ang mga kaso ng panggagahasa, pananakit, at pilit na pagkakasal na ginawa sa mga menor de edad (The cult that was formed in Surigao is terrifying. But the cases of rape, torture, and forced marriages committed against minors are even more horrifying and infuriating). We must put an end to this. As chairperson of the Senate Committee on Women and Children, and as a mother, I ask us not to allow this monstrosity to continue," Hontiveros said.
Senator Ronald Dela Rosa filed a similar resolution after receiving a letter from Socorro Mayor Riza Rafonselle Timcang requesting for a Senate probe into an alleged shabu laboratory in their island town and the presence of heavily-armed private army dubbed as "Agila" supported by extremist groups in Southern Mindanao.
Dela Rosa likewise received information from Socorro residents that a certain Rosalina Taruc, an official of SBSI, was killed in 2021 while her daughter, former mayor Denia Florano, "mysteriously died" eight days later.
According to direct and first-hand testimonies gathered by Hontiveros' office, Quilario sexually abuses and commits violence against minors, including rape, facilitating marriages of children as young as 12 years old with adults, and locking adolescents in rooms where sexual activities happen, among others.
Hontiveros said she has received information that the cult is recruiting minors from Metro Manila while eight children ran away managed to escape in July.
The children's parents, who are still part of the cult, were asked to file petitions for habeas corpus in order to recover the minors from the local government.
Hontiveros also revealed that members of the cult are forced to surrender to Quilario some of their social welfare benefits, such as from the Pantawid Pamilyang Pilipino Program, senior citizen pension and Assistance to Individuals in Crisis Situations.
Meanwhile, in a radio interview, SBSI vice president Mamerto Galanida denied the allegations and said they are prepared to face investigations.
Galanida said the allegations are "fabricated lies." (PNA)