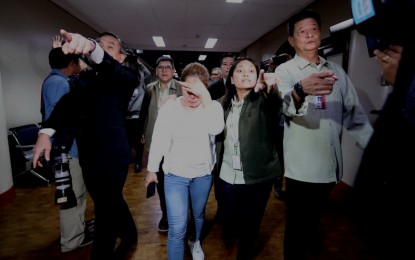 MANILA - The Senate Committee on Justice and Human Rights on Tuesday cited in contempt France Gracia Ruiz, the former employer of the alleged abused household helper Elvie Vergara.
Senator Jinggoy Estrada made the motion during the third marathon hearing of the Senate panel on Vergara's case citing inconsistencies in Ruiz's statements to the panel.
"Our resource person, Mrs. France, have been giving a lot of inconsistent answers to questions. Coming from me, and I believe that this woman, Mrs. France Ruiz is the mastermind of everything - maltreating, inflicting severe injuries leading to total blindness of Aling Elvie. Therefore, I move that we cite this woman, Mrs. France Garcia-Ruiz in contempt," Estrada said.
Senator Ronald Dela Rosa immediately seconded the motion.
In a press briefing after the hearing, panel chair Senator Francis Tolentino said Ruiz will stay inside the Senate detention facility while the panel will be conducting parallel investigations on the case to finalize charges.
"I already signed the commitment order. It is now waiting for the signature of SP [Senate President Juan Miguel Zubiri]," he said.
As agreed during the hearing, Ruiz and the other witnesses will undergo a polygraph test and medical examination.
The hearing was conducted after the reported gun attack against the case's primary witness, a certain "Dodong" of Paluan, Oriental Mindoro.
Dodong told the panel that a lone gunman wearing a black jacket and bonnet entered the farmhouse where he was staying at 9 p.m. on September 12, and fired twice without hitting him.
He was convinced that the gunman had no intention to kill him.
The police investigators, as well as the senators, are looking at Ruiz and her husband Pablo as possibly behind the attack.
Apart from Dodong and two others who appeared before the panel and testified against the Ruiz couple, more witnesses are expected to attend the next hearings, Tolentino said. (PNA)