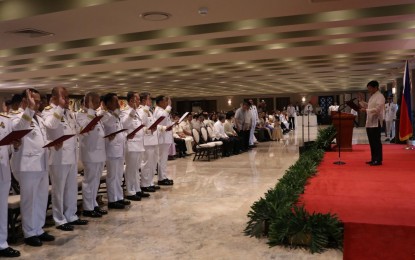 MANILA – President Ferdinand R. Marcos Jr. on Tuesday assured the Philippine National Police (PNP) of his administration's continued support for its plans and programs aimed at improving the capabilities of its personnel.
Marcos made the commitment during the oath-taking of the newly promoted star-rank officers of the PNP in a ceremony at the Heroes Hall of Malacañan Palace in Manila on Monday.
"As President, I assure you this administration is always supportive of the PNP's plans and programs, especially those that bolster your capability," he said. "As you perform your duties in securing our people, you and your families can rest assured of the government's full support of your welfare and overall well-being."
Marcos expressed hope that the police generals would implement and oversee crucial initiatives aimed at improving public safety and security, noting that Filipinos are expecting them "to develop a police force that is capable, professional, responsive to the needs of the communities that it serves."
He called on the promoted PNP officers to uphold the highest standards of ethics, professionalism, and compassion for human rights.
"I expect you to always lead by example and ensure that every officer and every personnel under your command adheres to the highest standards and principles that we have set for them," he said.
'Agents of positive change'
The ceremony gathered 57 newly promoted PNP officials consisting of four lieutenant generals, 10 major generals, and 43 brigadier generals.
Marcos challenged the new generals to be "agents of positive change" to attain his administration's goal of transforming the country into a new Philippines.
"As we recognize that the cornerstones of an effective law enforcement are public trust and community engagement, bring the PNP closer to our communities, foster stronger partnerships for peace and security," he said.
Marcos said under his watch, there would be "no room for leniency" for police officers who engage in acts that "tarnish the reputation of our police and jeopardize the safety of our people."
"So to our new officers here, I urge to keep your integrity at all times and remain steadfast in your challenges faced by your institutions," he said. "So let us work together towards ushering a truly safe, just, and prosperous Philippines for every Filipino."
Among the newly promoted officers are Lt. Generals Rhodel Sermonia, acting Deputy Chief for Administration; Michael John Dubria, acting Deputy Chief for Operations; Rhoderick Armamento, commander of the Area Police Command - Southern Luzon; and Filmore Escobal, commander of the Area Police Command - Eastern Mindanao.
PNP chief Gen. Benjamin Acorda Jr., Interior Secretary Benjamin Abalos Jr., and Presidential Adviser on Military and Police Affairs Secretary Roman Felix were also present during the oath-taking ceremony. (PNA)