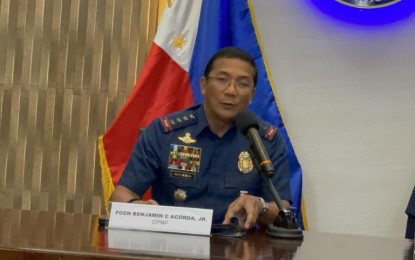 MANILA – The Philippine National Police (PNP) on Tuesday said it would realign the deployment of its forces in the province of Negros Oriental, after the province was placed under the control of the Commission on Elections (Comelec) ahead of the Barangay and Sangguniang Kabataan Election (BSKE).
"We will be directly coordinating with Comelec and in fact we can deploy and move anytime our forces through the coordination with Comelec and as agreed upon during the last command conference with the regional directors, they are now going to identify what areas are considered peaceful and what are considered problem areas," PNP chief Gen. Benjamin Acorda Jr. said in a press briefing in Camp Crame.
Acorda said they would also augment their forces in so-called problem areas.
Under Comelec Resolution 10757, an area may be placed under Comelec control if it has a history of/or current intense political rivalry which may result to violence; has a presence of private armed groups which may sow violence during the election period; and serious armed threat from the communist group and other local terrorist group that may disrupt the holding of free, peaceful, honest, orderly and credible elections in any political division, subdivision, unit or area.
On Tuesday, the poll body said the village and youth polls in Negros Oriental will push through on Oct. 30 amid calls for its postponement due to violent incidents, particularly the killing of Governor Roel Degamo and nine others in March this year.
Meanwhile, Acorda has ordered all police commanders to step up operations in accounting for wanted persons, including communist rebels, as part of BSKE security measures.
This, as the PNP chief noted that communist rebels are known to interfere with the elections through extorting permit to campaign fees from candidates in the areas where they operate.
"That is our standing instruction to our operating units on the ground (to run after communist rebels) to prevent intimidation and threats to our voters because we want the voice of the people be heard without outside interferences to include threat and the arrest of these high-ranking members of CTGs (communist terrorist groups)," said Acorda.
"So we really want to preempt these from happening and these kinds of operations against these high ranking officials and running after these personalities would really help in preempting this move," he added. (PNA)