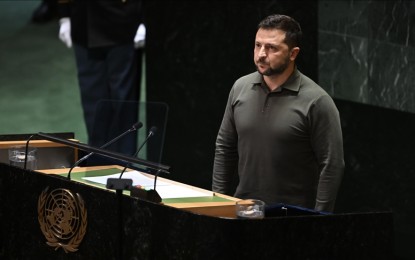 NEW YORK – Ukrainian President Volodymyr Zelenskyy accused Russia of weaponizing food, energy and children as he addressed the United Nations General Assembly (UNGA) in New York City on Tuesday.
Zelenskyy said nuclear weapons are not "the scariest now" and stressed that while they remain in place, "mass destruction is gaining its momentum."
"The aggressor is weaponizing many other things, and those things are used not only against our country but against all of yours as well," he said.
He said that since the start of the war, the Ukrainian ports in the Black and Azov Seas have been blocked by Russia and the ports on the Danube River remain targets for missiles and drones.
"And it is a clear Russian attempt to weaponize the food shortage on the global market in exchange for recognition for some, if not all, of the captured territories," Zelenskyy said.
The Ukrainian leader cited energy as another area being weaponized, accusing the Kremlin of using oil and gas as weapons to weaken leaders in other countries.
"Now the threat is even greater. Russia is weaponizing nuclear energy. Not only is it spreading its unreliable nuclear power plant construction technologies, but it is also turning other countries' power plants into real dirty bombs," he said.
Turning to kidnapped children in Ukraine, Zelenskyy said "various terrorist groups" abduct children to put pressure on their families and societies.
"We know the names of tens of thousands of children and have evidence on hundreds of thousands of others kidnapped by Russia in the occupied territories of Ukraine and later deported," he said.
"Those children in Russia are taught to hate Ukraine, and all ties with their families are broken… This is clearly a genocide."
Recalling that the International Criminal Court has issued an arrest warrant for Russian President Vladimir Putin for this crime, Zelenskyy said "when hatred is weaponized against one nation, it never stops there. Each decade, Russia starts a new war." (Anadolu)