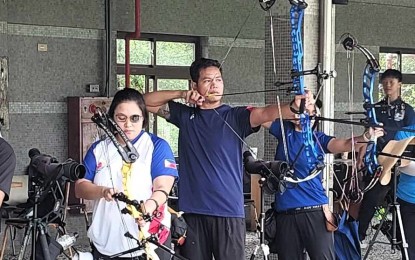 MANILA – Seven archers, led by Paul Marton Dela Cruz, will represent the Philippines in the forthcoming 19th Asian Games in Hangzhou, China.
Also joining Dela Cruz in the regional biennial meet are Amaya Cojuangco and Andrea Robles (compound women), Jason Feliciano and Jonathan Reaport (recurve men), and Bidaure siblings Pia Elizabeth and Gabrielle Monica (recurve women).
They will be accompanied by coaches Clint Sayo and Joy Mariño, and World Archery Philippines (WAP) secretary general Rosendo Sombrio, who will serve as team manager.
The national team's best performance in the Asian Games was in 2014 when Dela Cruz won the individual compound bronze medal in Incheon, South Korea.
"My target is to improve the bronze I got in Incheon," the 36-year-old Dela Cruz said in an interview on Wednesday.
In preparation for the Hangzhou Asian Games, the seven archers trained at the National Taiwan Sport University from Sept. 2 to 15.
"Our training in Taipei was good, there were activities and video analysis, so our form and shooting improved a lot," said Dela Cruz, currently No. 6 in the World Archery men's compound rankings.
He joined the Asia Cup this year, placing fourth in Leg 1 (Taoyuan, Taiwan on March 14-19) and fifth in Leg 3 (Singapore on June 5-10).
Dela Cruz debuted at the 2015 Singapore SEA Games, winning the team bronze medal with Delfin Anthony Adriano and Earl Benjamin Yap.
In 2017, he bagged the individual bronze medal and team bronze (with Earl Benjamin Yap and Joseph Vicencio) in Kuala Lumpur, Malaysia.
Dela Cruz won the mixed team gold medal with his wife Rachelle Ann during the 2019 Manila SEA Games. He also got the mixed team silver medal (with Jennifer Dy Chan) and the team bronze (with Florante Matan and Andrei Johann Olaño) in Vietnam two years ago.
Meanwhile, Sombrio is optimistic that the Asian Games-bound archers are capable of winning medals.
"They are thirsty to win medals. They are strong now and ready to compete with the elite from other countries," he said.
"Our athletes went to the training camp in Taiwan to enable them to win medals. I hope it will happen," he added.
Sombrio said the WAP decided to train in Taiwan because of the good facilities there and the Chinese Taipei Archery Association is willing to train the Philippine national team.
"Taiwan is near to our country and the climate is, more or less, the same as in China where the Asian Games will be held. Taiwan has a sports science analysis which can benefit our archers," he explained.
The team will leave for Hangzhou on Sept. 27. The competition will be held from October 1 to 7 at the Fuyang Yinhu Sports Centre. (PNA)