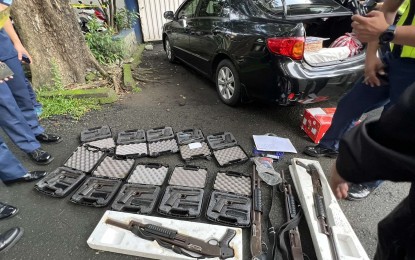 MANILA – The Philippine National Police (PNP) on Wednesday said it is looking at more charges to be filed against the man who was caught with 15 firearms inside the Philippine National Police (PNP) headquarters at Camp Crame, Quezon City.
In a press briefing, PNP Firearms and Explosives Office chief Brig. Gen. Paul Kenneth Lucas said the firearms were registered under a security agency.
"Although the firearms are all legal because these are registered under the GenB Security Agency, however, they do not have exemption from the Comelec (Commission on Elections). So there is an investigation undertaken by the CIDG (Criminal Investigation and Detection Group) with regards to the violation of the transport of the firearms," he added.
Lucas, however, declined to identify the suspect who yielded four shotguns, 11 handguns and several rounds of ammunition during an inspection at Gate 2 of Camp Crame on Tuesday.
"Under normal times, the transport of firearms is escorted by personnel from the SOSIA (Supervisory Office for Security and Investigation Agencies) and these would be put for safekeeping at the vault of the security agency. However, we have a gun ban so before we withdraw these guns from whoever these were assigned to, there should be a Comelec exemption that must be secured but our SOSIA personnel will do the same escorting process," he said.
As of Monday, the PNP has confiscated 286 firearms at checkpoints since the start of the gun ban in relation to the Oct. 30 Barangay and Sangguniang Kabataan Elections.
The election period for the BSKE started on Aug. 28 and will end Nov. 29.
During this period, the Comelec mandates the suspension of activities involving the carrying of firearms or other deadly weapons and the employment of security personnel or bodyguards by incumbent public officials, whether elected or appointed, as well as private individuals. (PNA)