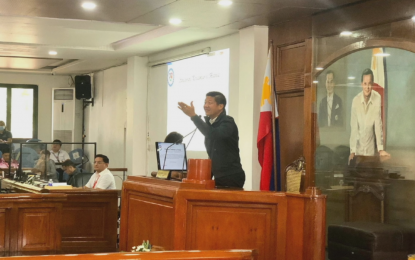 BATANGAS CITY – The Sangguniang Panlalawigan (SP) of this province has appropriated more funds for the provincial government's priority programs focusing on Health, Education, Livelihood and Protection of lives, environment and property (HELP).
In an interview on Wednesday, Vice Governor Mark Leviste, presiding officer of the SP, said the provincial council has earmarked an additional PHP239.2 million to ensure that key programs are implemented.
General Fund Supplemental Budget No. 2 was passed for the allocation during its 38th regular session earlier this week, he added.
Leviste said part of the incumbent provincial leadership's priority is helping the youth through its educational financial assistance to deserving students, scholars and dependents of public servants including barangay officials, health workers and volunteers.
Also passed by the SP this week was Tanauan City Ordinance No. 2023-16, which establishes and institutionalizes drug-free places of work in the city.
The ordinance authorizes drug testing in all local government units (LGUs), including the 48 barangay offices in the first-class component city.
Leviste said this practice must be duplicated in other towns including the provincial government itself, which has large number of government employees among Batangas LGUs.
"We need to be strict, responsible and diligent to attain a drug-free workplace. We [in the provincial government] deserve to be good role models to our fellow government employees," he said.
Leviste said he personally submitted himself to a drug test before the provincial sports fest began to show to his co-workers and teammates that he wanted to promote healthcare and wellness among them.
"You cannot be an athlete if you do not take care of your health," he added.
The provincial government of Batangas has just concluded an inter-department sports festival this month that featured government employees and officials. (PNA)