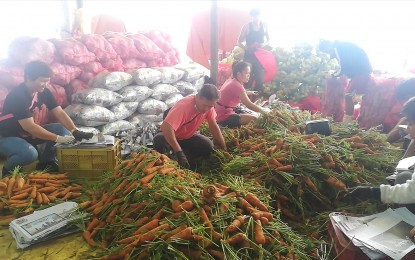 LA TRINIDAD, Benguet – The Department of Agriculture in the Cordillera Administrative Region (DA-CAR) on Wednesday assured the public that the country still has a sufficient supply of temperate or highland vegetables coming from Benguet, considered the "salad bowl of the Philippines," despite a series of weather disturbances in the region.
"Based on monitoring, we have enough supply. There is no shortage. We can see a lot of supplies arriving at the different trading facilities so we cannot say there is a shortage," Jennilyn Dawayan, officer in charge director of the DA-CAR, said on the sidelines of the opening program of the 5th Highland Vegetable Festival at the Benguet Agri Pinoy Trading Center (BAPTC).
Dawayan said there may be a slight decline in the supply as a result of the damage caused by several typhoons and enhanced monsoon rains that hit the region, but the overall supply is still sufficient.
A DA-CAR inventory report showed that a total of 2,026 metric tons of vegetables were traded throughout the region on Sept. 18, and 2.050 metric tons on Wednesday.
The DA said it has consistently monitored at least 2,000 metric tons or 2 million kilograms of assorted vegetables traded daily for several years now from Baguio and Benguet coming from the farms in several municipalities of Benguet, Mountain Province and Ifugao.
"As you can see now, the prices are high and I think the general sentiment of the farmers is happy. A while ago, I went around to get some potatoes but I did not find them, which means that our potatoes are now being transported to their destinations," she said.
Dawayan said the DA is also constantly coordinating with the Bureau of Customs, the Philippine National Police and other law enforcement agencies to ensure agriculture commodities are not smuggled.
Benguet Governor Melchor Diclas, in a separate interview, said they have also not monitored any cases of vegetable smuggling in the markets.
"We are considered the salad bowl of the country so we should make sure that we always have the supply. Let us not allow some people to have the reason to smuggle vegetables because we do not have the supply. Let us ensure a consistent, ample supply of vegetables for all Filipinos," Diclas said. (PNA)