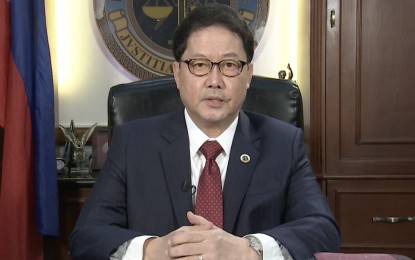 MANILA – Solicitor General Menardo Guevarra on Wednesday said his office is now exploring legal options that the country may pursue amid reports of "extensive" damage found on the seabed of Rozul Reef and Escoda Shoal in the West Philippine Sea (WPS).
"The OSG (Office of the Solicitor General) has embarked on an in-depth study of various legal options that the Philippine government may consider in relation to WPS issues with China. We are in the fact-finding and data gathering stage," Guevarra said in a media interview.
He said the OSG shall evaluate the merits of every legal option, including the possible filing of a complaint for damages before an international tribunal with proper jurisdiction, such as the Permanent Court of Arbitration (PCA) at the Hague.
"We are doing this study with utmost care and circumspection because of the potential impact of any state action on our long-term national interest," he added.
The Rozul Reef and Escoda Shoal are two areas in the WPS frequented by Chinese militia.
From Aug. 9 to Sept. 11, the Philippine Coast Guard monitored about 33 Chinese militia vessels in the vicinity of Rozul Reef and 15 at Escoda Shoal.
During the same period, maritime patrols carried out by BRP Sindangan (MRRV 4407) and BRP Cabra (MRRV 4409) validated the presence of Chinese militias in these areas.
In 2016, the PCA invalidated China's nine-dash line claim over the South China Sea. The Chinese map overlapped the Philippines' 200 nautical miles exclusive economic zone or EEZ. (PNA)