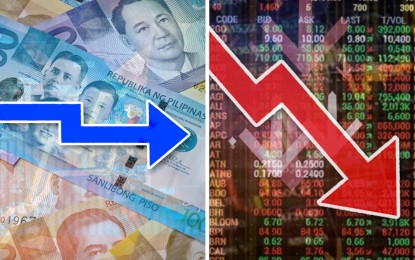 MANILA – Local shares declined for the fourth straight trading day Wednesday while the peso moved sideways after the Asian Development Bank (ADB) lowered its 2023 gross domestic product (GDP) outlook for the country.
The Philippine Stock Exchange index (PSEi) slipped by 6.93 points to 6,041.04 level, while All Shares also closed lower by 2.64 points to 3,271.66 points.
Rizal Commercial Banking Corp. chief economist Michael Ricafort said the index hit its new lows in nearly 11 months or since Oct. 25 last year.
"(This is) after the Asian Development Bank reduced its estimate for Philippine GDP growth for 2023 to 5.7 percent from the previous estimate of 6 percent," he said.
Ricafort said factors that affected investor sentiment also include recent net foreign selling at the PSE, higher US Treasury bonds yield and rising oil prices.
Most sectors gained, except for Holding Firms and Financials, which went down by 33.90 and 7.29 points, respectively.
The Mining and Oil index was the biggest gainer during the day, increasing its shares by 129.24 points; followed by Property, up by 12.06 points; Industrial, 8.55 points; and Services, 8.35 points.
"From the immediate high of 7,137.62 posted on January 24, 2023, the PSEi already declined by a total of 15.4 percent (technically well into correction mode or at least -10 percent from the immediate high; the bear market cut-off at -20 percent from the peak)," Ricafort said.
Net outflow at the local bourse during the day reached PHP1.02 billion, leaving a net market value turnover at PHP4.78 billion.
Advancers outpaced losers at 100 to 79, with shares of 43 firms left unchanged.
Among listed firms, Monde Nissin Corporation made the highest gains at 3.81 percent while Jollibee Food Corp. was at the bottom after losing 1.9 percent.
Meanwhile, the peso closed sideways Wednesday to 56.81 to a US dollar from the previous finish of 56.76, shedding 0.05.
"Since the start of 2023, the US dollar/peso exchange rate is still higher, by +1.055 or +1.9 percent (versus 55.755 in end-2022); nevertheless, still among the better performers in ASEAN/Asia," Ricafort said.
It opened the day at 56.70 from last day's start at 56.71.
The currency pair traded between 56.70 and 56.82, bringing the average level for the day at 56.78 to a dollar.
Volume of trade fell to USD835.5 million from the previous day's volume of USD1.17 billion.
"For tomorrow, the peso exchange rate could range at the 56.70-56.90 levels," Ricafort said. (PNA)