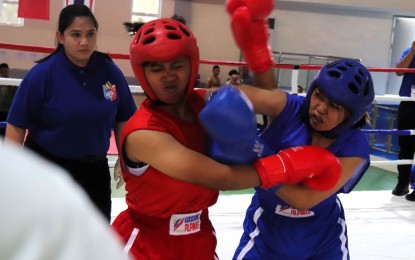 CAVITE – Maria Reina Bantaya of Cavite State University barged into the gold medal round of the Reserve Officers' Training Corps (ROTC) Games Luzon kickboxing competition at the Tagaytay Combat Sports Center here.
Bantaya scored a technical knockout against Maria Gwynneth Puno of Tarlac State University in the women's 52kg semifinal bout on Wednesday to arrange a meeting with University of Baguio bet Bety Mae Churping in the championship round.
Churping earlier scored a 3-0 victory over Jheykye Aguinoas of Don Mariano Marcos State University South La Union campus.
Bantaya clobbered Queen Dhylan Ortega of the University of Batangas-Lipa, 3-0, in the quarterfinal round.
In the men's division, Aaron Carl Recinto (University of Batangas) and Dominique Boligan (University of Baguio) won their matches to arrange a final showdown in the 63.5kg class.
Recinto conquered Krys John Dumangeng (Kalinga State University), 2-1, while Boligan demolished Julius Cezar (John Paul College), 3-0.
Christopher John Manipon (University of Baguio) and Novem Lozano (PLT College, Inc.) will dispute the gold medal in the men's 57kg class.
Manipon routed Paul Bula-ey (St. Luis College Bolanao-Kalinga), 3-0, while Lozano beat Bryan Shane Febrada of Colegio de Amore, 2-1.
Richerstone Angelo Fesetan (Tarlac State University) and John Colin Tanada (Liceo de San Jacinto Foundation, Inc.) also clinched final berths.
Fesetan won over Arnold Cestina (Tiwi Community College) via TKO R-1 1:56s in the 60kg class while Tanada beat Mark Jesther Ventura (Northwestern University) via TKO R-2 1:33s in the 63.5kg class in the Philippine Navy category. (PNA)