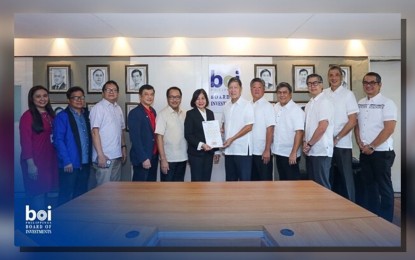 MANILA – The Board of Investments' (BOI) One-Stop Action Center for Strategic Investments (OSAC-SI) has awarded the 'green lane' certificate to the PHP19.3-billion steel mill project of SteelAsia Lemery Works Inc. in Batangas, the BOI said in a statement Thursday.
The BOI said it awarded the certificate on September 15 after it considered the SteelAsia project as a "strategic investment" as this strengthens the local steel value chain.
According to Executive Order No. 18 signed by President Ferdinand R. Marcos last February 23, strategic investments are those aligned with the Philippine Development Plan, and include highly desirable projects, foreign direct investments and projects or activities under the Strategic Investment Priority Plan.
Under the EO, processing and issuance of permits and licenses for projects with green lane certification shall be expedited to attract more foreign investments.
With the granting of the Certificate of Endorsement, SteelAsia aims to meet its target of starting commercial operation of its Batangas steel mill facility by July 2024.
"Green lane will be very helpful to the company. We consider it as a 'win' for the country and we will convert this privilege into action," SteelAsia chairman and chief executive officer Benjamin Yao said.
The project will involve greenfield design, erection, and commissioning of a hot-rolling production line with an upstream integrated recycling-based steelmaking, with an estimated output of 500,000 metric tons.
In awarding the certificate to SteelAsia, the BOI noted that local steel manufacturing is deemed "insufficient" to address the growing demand for the product, especially with the increasing consumption of sections from both infrastructure projects and private developments.
The country is the 20th largest importer of steel products in the world due to the lack of steel producers in the country.
BOI said the country imported USD5.23 billion worth of steel in 2022, USD2.18 billion of which were sourced from China.
"The presence of (additional) local manufacturers will lower the cost of construction, shorten construction periods, and further spur growth in domestic construction. It will also give rise to ancillary industries, such as structural steel services including design, engineering, and built-up steel structures," it said. (PNA)