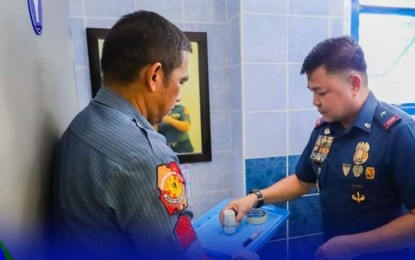 MANILA – All 42 officials of the Police Regional Office 4-B (Mimaropa), including its chief Brig. Gen. Joel Doria, tested negative for illegal drugs in a surprise drug test.
In a statement Thursday, Doria said this was based on the result of Wednesday's drug test following a command conference at the PRO 4-B headquarters at Camp Brig. Gen. Efigenio C Navarro in Calapan City, Oriental Mindoro.
The test administered by the Regional Forensic Unit covered officials of the PRO Mimaropa command group, regional staff and chiefs of regional support units (RSUs).
Doria said the unannounced on-the-spot drug tests support the PNP's intensified internal cleansing program.
"The surprise drug testing is not only a demonstration of our dedication to maintaining a drug-free organization but also a symbol of our resolve to be at the forefront of ethical and moral conduct in all our activities," he added.
From Jan. 1 to Aug. 31 this year, a total of 25 police officers, including former Mandaluyong police chief Col. Cesar Gerente, have tested positive in confirmatory drug tests on more than 115,000 personnel.
Eight police officers have been dismissed from the service. (PNA)