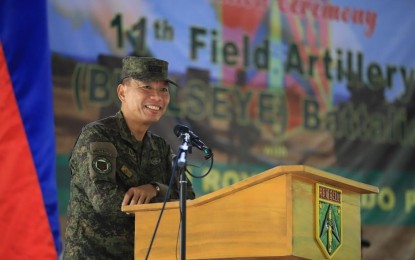 MANILA – The Philippine Army (PA) on Thursday said it is looking into the cases that can be filed against the two environmentalists who flip-flopped on their statements after initially claiming that they escaped from the communist movement.
"We felt betrayed that's why we will file the necessary case, to use our laws, just like when you are also betrayed when your clients are betrayed, they file a case against you, so we just have to follow the rule of law in our country," PA chief Lt. Gen. Roy Galido said in a briefing at the Army headquarters in Fort Bonifacio, Taguig City.
Earlier, National Security Council (NSC) Assistant Director General Jonathan Malaya said activists Jhed Reiyana Tamano and Jonila Castro may face perjury charges after claiming that they were abducted and threatened by soldiers in Tuesday morning's press conference organized by the National Task Force to End Local Communist Armed Conflict (NTF-ELCAC) in Plaridel, Bulacan.
"They went to us, they wanted to go back to the fold of the law, they provided a statement, we welcomed them. We, the mayor, (of) LGU (local government unit), received them, the Public Attorney's Office (PAO) administered their oath, so this action is very clear. All we want is to help them," Galido said.
He said their actions are similar to those extended by the government to any other surrenderers. Galido declined to go into the details of the case they will file against the two women.
Asked about the possible backlash of the incident, Galido said the PA does not condone any violation of the law and that anyone whose rights are violated can file a case before the courts.
"We don't see any violation but if there are other parties (who) see a violation, then file a case, we are open, and it's through filing, we can resolve things right, it's only through filing of cases (that) issues will be decided and situation understood clearly," he noted.
Castro a 'hardcore' NPA: NTF-ELCAC
Meanwhile, NTF-ELCAC executive director, Undersecretary Ernesto Torres Jr. said Castro, earlier described as an "environmental activist", is a hardcore member of the New People's Army (NPA) "in different capacities".
He also pointed out that Castro herself admitted in her handwritten affidavit that she is a member of the NPA for four years until her formal surrender on Sept. 12 to the PA's 70th Infantry Battalion based in Bulacan.
"She (Castro) said she was an organizer then became a "hukbo", which means an NPA combatant, then later went back again to the white area to organize. So, she performs in different capacities, notably as a semi-legal cadre," Torres said.
In the video presented by the NTF-ELCAC Thursday, Castro said she belonged to the NPA Lino Blas Command and was among a group of terrorists figured in an encounter against government forces in 2021 in Bataan.
She admitted there were casualties on the NPA side in that firefight.
Meanwhile, Torres pointed out that Castro also served as the recruiter, handler and schemer of Tamano who was only barely three months as a community organizer when they decided to leave the communist movement that led to their surrender to the said Army unit.
Despite Castro and Tamano's recantations, Torres believes the two women are "victims of terrorism" and that the government will not rest until they will be rescued from the clutches of the insurgents.
He stood firm with the military and police that Castro and Tamano were not abducted.
Speaking to the media, lawyer James Clifford Santos, Associate Solicitor of the Office of the Solicitor General and spokesperson for NTF-ELCAC' Legal Cooperation Cluster, labelled the recantations made by Tamano and Castro a "mockery of state policy," as their sworn statements before a PAO lawyer is a regularity under the 1987 Constitution.
"(Their) immediate assertions of falsehood clearly has malice to humiliate the government, the Armed Forces of the Philippines, and the NTF-ELCAC," Santos said.
He viewed the scheme, allegedly orchestrated by Castro, as a "demolition tactic", "to undermine efforts of the government's Task Force Balik-Loob", and "impair the public trust".
Santos also said to the contrary as evidence shown in the videos and photos when the two women gave their statements, wrote it down, and took their oath before PAO representative Atty. Joper Bagay, also in the presence of Tamano's parents. (PNA)