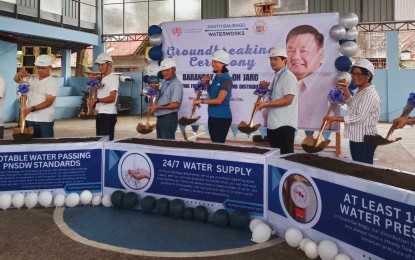 ILOILO CITY – Over 1,000 households in Iloilo City are assured of potable water supply 24/7 with the expansion of operations of the South Balibago Waterworks in the coastal barangay of Bito-on.
The water distribution utility broke ground for the pipelaying of water supply and distribution in the barangay on Thursday, which it hoped to energize by the end of this year, if not earlier in time for Christmas.
"We are already serving the other barangays in Jaro (district). This one is specifically for Barangay Bito-on, Zones 1, 2, 4, 5, 6 and 7. I believe there are around 1,300 houses, so our beneficiaries can reach 5,000 to 10,000 people," South Balibago Waterworks president Cristina Isabelle Panlilio-Alejandro said in an interview.
She said this was in response to the request of Mayor Jerry Treñas and Councilor Miguel Treñas for them to serve the barangay.
Panlilio-Alejandro said it took them around a year to start the project because they are currently rehabilitating their treatment plant in the municipality of Pototan to ensure their water quality meets the Philippine National Standards for Drinking Water (PNSDW).
She added they target to supply 1 million liters of water per day (MLD) with a pressure of 16 pounds per square inch (PSI).
The water utility expects to complete the rehabilitation of the water treatment plant just in time for the completion of the pipelaying that stretches to about 4.2 kilometers.
Bito-on Punong Barangay Junalyn Provido, in another interview, said that for decades, several zones of their barangay have had no source of water for daily use, except for deep wells.
"Our residents, especially in coastal areas, had long been suffering from the lack of water. Daily, they have to fetch water that they store in containers," she said in dialect.
Since it started operations in 2017, South Balibago Waterworks has supplied water in Barangays Buntatala and Tabuc Suba and the city's relocation site and subdivisions, including Ledesco Village, Landheights Ville, Landheights Phase 1 and 2, Sta. Rosa, Gran Plains St. Joseph, and Puerto Real.
Alejandro said they hope to expand their operations in other parts of Iloilo City.
The water utility is also present in Passi City, Leganes, Dueñas, Calinog, Zarraga and Barotac Viejo.
The groundbreaking ceremony was attended by City Councilors Ely Estante and Treñas and other officials of the barangay. (PNA)