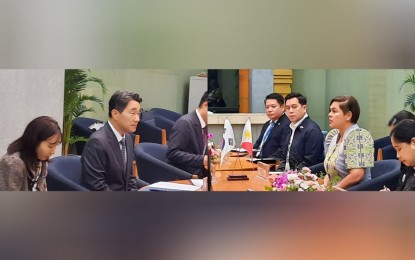 SEOUL – Vice President and Education Secretary Sara Z. Duterte, and South Korean Deputy Prime Minister and Education Minister Lee Ju-Ho, held a bilateral meeting here on Thursday to explore how Manila and Seoul can cooperate in education, especially on the use of digital technology in learning.
Duterte and Lee had their discussions on the sidelines of the 2023 Global Education and Innovation Summit (GEIS) at the Convention and Exhibition Center (COEX) in Gangnam District in Seoul, where the former also delivered a keynote speech.
During the meeting, Duterte expressed her interest in exploring cooperation with the Korean government in strengthening the Philippines' basic education.
"We have big dreams for our country and one of them is leveling up our basic education," she said.
She also emphasized the importance of innovation in education, particularly pushing for digital education.
"In fact, we started institutionalizing the blended learning program from our experience during the pandemic which leverages on the technology that is available right now," she said. "And the summit is timely for the Philippines to hear other countries like Korea in their innovation in education."
In an interview with the Philippine News Agency, Korea's Ministry of Education Global Education Policy Division director Lee Hyejin said the discussion between Duterte and Lee focused on digital education, inviting more Filipinos to study in South Korea, and learning of the Korean language.
Global Education, Innovation Summit
The Korean government has chosen Duterte to be one of the keynote speakers at the first GEIS, which aims to share Korea's best practices in education.
Lee said the Ministry of Education invited Duterte to be one of the guests in the GEIS as the Philippines shares a common interest in using technology and innovation in the education system.
"The Vice President is interested in digital transformation, especially in edu-tech, so we have the common interest. So, we thought it would be very good for her to share her thoughts, and I was very happy she has the idea of relieving the gaps for the education (sector) and developing your education," Lee added.
In her keynote speech, Duterte said disruptions in education are not limited to pandemics, but also the results of other causes such as areas in conflict, lack of infrastructure or human resources, or even as common as inclement weather.
"We now live in an era where, undeniably, technology must be harnessed to improve access, quality, and equality in education. And the advent of artificial intelligence will certainly create another paradigm shift in education. While this possibility will present newer and greater opportunities, it will also present many uncertainties in our vision of digital education," she said.
She proposed to the international community that whenever implementing technology in education, this should be "wrapped around critical thinking, communication, collaboration, and creativity".
Stakeholders must also be responsive to the effects of technology in the educational system, she said.
"This means recognizing quickly what is not working and changing it, to continuously improve even if it is a success and to always keep in mind that the most important result is not the technology itself, but how it affects the development of our learners," Duterte said.
She noted that adaptability and sustainability of new technology in education must be studied by end-users before rolling them out.
"This is in line with the thought that government programs and policies should be designed according to the behavior of people. We must recognize that some technologies may work for one ecosystem, but it may not work for others. It is the teachers and students who will be using it that will determine its effectivity," Duterte said. (PNA)