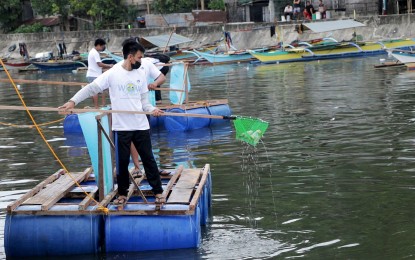 TACLOBAN CITY – The Department of Environment and Natural Resources (DENR) regional office here has signed an agreement with 98 government agencies, private groups and civil society organizations to carry out a five-year rehabilitation of the Antiao River in Catbalogan City, Samar.
The partnership will carry out a solid waste management program in 18 villages near the river.
These programs will include the establishment of a functional material recovery facility in every village along the main river and a central material recovery facility for the collection and proper disposal of special hazardous wastes.
In a statement released Thursday, DENR Eastern Visayas regional executive director Lormelyn Claudio called for the enforcement of legal easement pursuant to the Water Code of the Philippines to prevent further pollution of the river system.
Claudio described the signing of the partnership as remarkable, saying it was not easy to involve 98 organizations in this undertaking.
"Rehabilitation of the river or dealing with solid and hazardous wastes management is not only the responsibility of the DENR, local governments and the villages, but also of everyone," she said.
Antiao River is the only river in Catbalogan City, the capital of Samar province. It has a length of 4.08 kilometers. The water that flows in the river comes from the Antiao watershed, according to the research done by Samar State University.
Simultaneous with the signing was a river cleanup participated by 2,000 volunteers from partner agencies.
The parties have committed to develop a "Bring Back the Wow of Antiao River Rehabilitation Master Plan" anchored on Adopt-an-Estero Program of the DENR through the Environmental Management Bureau (EMB).
A trust fund will also be created from contributions of partner organizations and other funding sources for the rehabilitation of the river.
The DENR expects to see significant improvement of the river's condition by 2027.
A regular monthly cleanup will be conducted while the EMB will conduct a quarterly water sampling to monitor the water quality of the river.
It will also enforce environmental laws such as Establishing an Environmental Impact Statement System, Ecological Solid Waste Act, the Philippine Clean Water Act, Toxic Substances and Hazardous and Nuclear Wastes Control Act and other relevant laws, rules and regulations. (PNA)