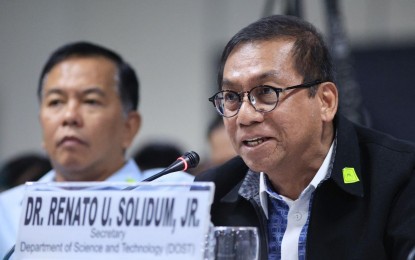 MANILA - Senator Francis Tolentino on Thursday said fully utilizing the Department of Science and Technology's (DOST) innovations on water technology could address the country's water woes.
Tolentino cited as examples the study conducted by the National Research Council of the Philippines, which is under DOST, to avert the looming crisis in Lanao del Norte; the Water Security or TUBIG Program under the National Integrated Basic Research Agenda; the Coastal Aquifers System; and the water desalination technology that the agency has been introducing to some island communities in the country.
"I look forward to seeing your agency and other agencies having not just a scholarly output on water recycling and reuse. If you really want to help local government units, there is an existing Barangay Water Impounding Law, which has yet to be implemented," he said during the hearing of the Senate Committee on Finance's Subcommittee "L" of the DOST's proposed 2024 budget.
He said some of these technologies can even help the water needs of the Armed Forces as it tries to beef up structures in the West Philippine Sea.
Tolentino urged the DOST to boost the promotion of its initiatives, especially in water technology, so it can contribute to addressing problems that the country faces.
"Hindi nga naririnig itong mga programang ito. Magaganda ito, hindi naririnig (These programs are unheard of. These are good, but unheard of)," Tolentino said.
DOST Secretary Renato Solidum said that he already designated a spokesperson, but was not present during the budget deliberation to attend another event.
He also told lawmakers that in previous years, the DOST had initially helped the grassroots communities in addressing issues in water supply, and is currently in the process of putting these initiatives into paper so other government agencies can also use it.
"We are crafting actually a book of all the technologies that we have assisted on so far, and the technologies that can be shared, so that we can input (the technologies) to the appropriate water agencies," he said.
Solidum also told the panel that the agency organized last year Water Summits in Luzon, Visayas, and Mindanao which were attended by both private and government water stakeholders.
Among other points discussed are the integration of DOST in marine studies especially amid the coral harvesting in the West Philippine Sea; and stronger research on agriculture and food security, including the development of tamban fish hatcheries, African swine fever vaccine, and nutritious meals for marginalized Filipinos.
Tolentino's panel is set to endorse the DOST's proposed PHP25.6-billion 2024 budget to the plenary after almost six hours of deliberation of the department's 18 attached agencies. (PNA)