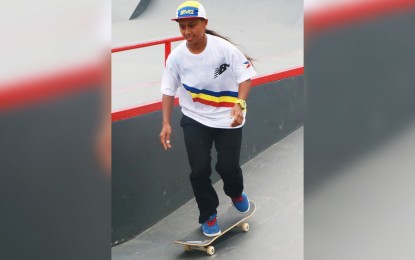 MANILA – Skateboarder Margielyn Didal has expressed her determination to defend the women's street gold medal in the 19th Asian Games despite an 11-month layoff due to a fractured ankle.
"I was forced to stop 11 months ago because of my injury. As of now, I'm focused on my recovery to regain my confidence and get comfy with my board,'' said Didal, who arrived Wednesday and stayed at the Athletes Village in Hangzhou, China.
She was chosen to carry the Philippine flag with pole vaulter Ernest John Obiena in the opening ceremony at the Hangzhou Olympic Sports Center Stadium on Saturday.
Didal delivered one of the four gold medals won by Team Philippines during the 2018 Asian Games in Indonesia. The three other golds came from weightlifter Hidilyn Diaz and golfers Yuka Saso (individual event), and Bianca Pagdanganan and Lois Kaye Go (women's team event with Saso).
Didal underwent an operation after breaking her left ankle during the Red Bull Stake Levels tourney last year in Brazil.
"We trained in Thailand before coming here. My goal is to make it to the finals. From there, I'll try to get to the podium,'' said the 24-year-old Cebuana, a double-gold medalist at the 2019 Manila SEA Games.
Fencers hopeful
The national fencing team, meanwhile, remains optimistic despite the absence of Southeast Asian Games standouts Samantha Catantan and Maxine Esteban.
Catantan, a student at Penn State University, was forced to withdraw from the women's foil gold medal match in the Cambodia SEA Games last May after suffering from a knee injury.
Esteban, on the other hand, left the team to play for Ivory Coast as a naturalized player.
Leading the Filipino fencers are SEA Games silver medalist Noelito Jose (men's epee), Ivy Dinoy (women's epee), Samuel Tranquilan (men's foil), Jylyn Nicanor (women's saber), Miggy Bautista (men's foil), and Juliana Gomez (women's epee), the daughter of Asian Games chief of mission Richard Gomez.
"A lot of individual medalists will join like Noelito. They have been beating Asian champions. They have a good chance of making it to the medal round of individual events," head coach Ramil Edriano said in a news release on Thursday.
Countries like South Korea, Japan, Hong Kong and host China are expected to dominate the sport.
In 2018, South Korea captured six gold, three silver and six bronze medals.
"There are a lot of strong countries here. South Korea is currently a powerhouse, as well as Hong Kong. Korea has former Olympic medalists and Japan currently has world champions with them," he said.
Filipinas fully motivated
Motivated by their impressive performance at the FIFA Women's Cup, the Filipinas are hoping to hurdle their opening game against Hong Kong at the Wenzhou Sports Center Stadium on Friday. Game time is at 4 p.m. (Manila time)
"They are fully motivated," Philippine Football Federation secretary general Edwin Gastanes said.
The Filipinas, who scored a 4-1 victory over Hong Kong in April, are currently No. 44 in the FIFA rankings.
A total of 396 athletes from 40 sports will see action in the Asian Games scheduled from Sept. 23 to Oct. 8. (With reports from Jean Malanum/PNA)