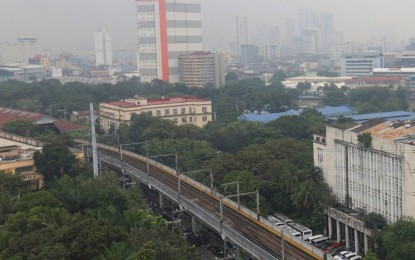 MANILA – The volcanic smog (vog) forming over Taal Volcano is unrelated to the smog blanketing Metro Manila, which is primarily attributed to emissions from heavy vehicular traffic, especially during rush hour, according to the Department of Environment and Natural Resources Environmental Management Bureau (DENR-EMB) on Friday.
The Philippine Institute of Volcanology and Seismology echoed the DENR-EMB report saying the smog in Metro Manila is not likely due to the vog drifting over Taal Volcano, which is detected west-southwest of the volcano and not going toward the Metro Manila area.
However, the heavy smog formation forced all 17 local government units in the National Capital Region (NCR) to suspend classes at all levels, in both private and public schools on Friday, the Metropolitan Manila Development Authority (MMDA) said.
In Manila, suspension of government work and its satellite offices was ordered at 1 p.m. while in Marikina City, Friday's afternoon classes and on Saturday (Sept. 23) were ordered canceled.
The DENR-EMB said spikes in particulates were mainly caused by heavy traffic and thermal inversion.
Particulate matter or particle pollution are tiny pieces of particles of solid or liquid that are in the air. These particles may include dust, dirt, soot, smoke and drops of liquid.
Sources of particulate matter emissions are transport vehicles and stationary sources.
The DENR-EMB monitoring station in Parañaque indicates an Air Quality Index of 217, which means "acutely unhealthy", while Makati and Pateros recorded 128 and 141, respectively.
In an advisory Friday, the Philippine Atmospheric, Geophysical and Astronomical Services Administration said the meteorological conditions on Friday morning in the NCR, Region 4-A (Calabarzon) and some parts of Central Luzon were conducive for haze or smog formation.
"This occurs when very small particles get trapped close to the surface due to the presence of a thermal inversion, high humidity, and calm wind conditions. These floating minute particles in the air could be from smoke, pollutants, or volcanic aerosols," it said.
Thermal inversion occurs when layers of the atmosphere do not mix, causing aerosols to get trapped, it added.
The inversion usually disappears later in the day as heat from the sun allows the mixing of the air, allowing the aerosols to disperse, it said.
However, the cloudy conditions may reduce surface heating, allowing the haze to persist.
In a televised briefing, Department of Science and Technology Secretary Renato Solidum said rain showers could help wash down the pollutants in Metro Manila and the vog in Taal, but sulfur mixing with light rains results in acid rain that could affect the crops.
"You could smell when the air has sulfur. It could cause dizziness, among others, so mask should be worn," he said.
The US Geological Survey defines vog as a visible haze comprised of gas and an aerosol of tiny particles and acidic droplets created when sulfur dioxide and other gases emitted from a volcano chemically interact with sunlight and atmospheric oxygen, moisture and dust.
Volcanic gas emissions can pose environmental and health risks to nearby communities.
Stay indoors
The Department of Health has advised the public to stay indoors and refrain from outdoor activities to limit exposure from the vog in southern Luzon and the smog in Metro Manila.
The doors and windows should also be closed and when going out, make sure to wear mask. It is also advised to drink plenty of water to prevent irritation and dry throat. (With reports from Ma. Teresa Montemayor/PNA)