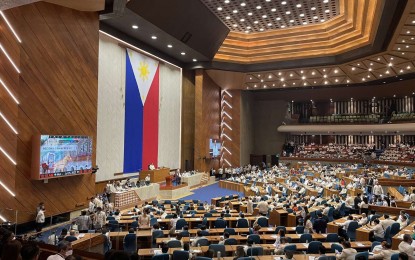 MANILA – The House of Representatives on Friday adopted a resolution expressing the Chamber's deep sympathy and profound condolences to the family of the late former Bulacan 2nd District Rep. Pedro Pancho, who died on Thursday at the age of 89.
Adopted during Friday's plenary session, House Resolution (HR) No. 1323 authored by House Speaker Martin G. Romualdez, was taken up during a short break in the discussion of the PHP5.768-trillion General Appropriations Bill (GAB) or the proposed national budget of 2024.
A necrologial service in honor of Pancho was held outside the main lobby of Congress. It was attended by House members and their staff.

Aside from Romualdez, the resolution was authored by Senior Deputy Speaker Aurelio "Dong" D. Gonzales, Jr., Majority Leader Manuel Jose "Mannix" M. Dalipe, Minority Leader Marcelino C. Libanan, Senior Deputy Majority Leader Ferdinand Alexander A. Marcos, Committee on Accounts Chairperson Yedda Marie K. Romualdez and Deputy Majority Leader Jude A. Acidre.

"We join the late congressman's family, his friends, and his people in their sorrow. He will be missed by all," Romualdez added.
Pancho was born on July 2, 1934 in Baliuag, Bulacan. A veteran lawmaker, he represented the 2nd district of Bulacan during the 9th, 10th, 11th, 13th, 14th, and 15th Congress. He was described as a "devoted public servant who dedicated a great part of his life to public service".
"Pancho prioritized the welfare of his constituents by conducting public consultations six days every week, providing scholarships to poor but deserving college students, and extending medical and financial assistance to indigent patients of the Bulacan Medical Center, Baliuag District Hospital and Ospital ng Guiguinto," the resolution reads.

Death of former Rep. Bayani Fernando
Meanwhile, Romualdez was deeply saddened over the sudden death of a former member of the House of Representatives, Rep. Bayani Fernando, 77, who died after falling off from the roof of his home on Friday.

"It is with a heavy heart that we offer our condolences on the passing of former Marikina City Mayor and Representative Bayani Fernando, a dedicated public servant who left an indelible mark on the city of Marikina and our nation," Romualdez in a statement.
He said Fernando's service as the representative for Marikina's first congressional district from 2016 to 2022, as well as his tenure as mayor of Marikina from 1992 to 2001, where he transformed the city into a model for others to follow, exemplified his commitment to progress and development.

His leadership, the House Speaker added, extended beyond Marikina, as he also served as the Chairman of the Metropolitan Manila Development Authority from 2002 to 2009, where he worked tirelessly to improve the quality of life for countless Filipinos in the capital region.

"His legacy of visionary leadership and dedication to the betterment of our communities will forever be remembered," the House leader continued.

"Our thoughts and prayers are with his family and loved ones during this difficult time. May he rest in eternal peace," the House Speaker added. (With reports from Zaldy De Layola/PNA)