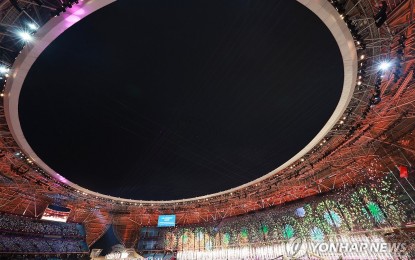 HANGZHOU, China – The wait is over.
After a year's delay, the 19th Asian Games opened in Hangzhou, China, on Saturday with an eco-friendly ceremony highlighting the host country's cultural heritage and cutting-edge technology.
The opening ceremony took place at the lotus-shaped Hangzhou Olympic Sports Centre Stadium in the capital of Zhejiang Province, with Chinese President Xi Jinping joined by representatives from across Asia, including South Korean Prime Minister Han Duck-soo.
The competition had been scheduled to begin in September 2022, but it was postponed by a year due to the lingering effects of the COVID-19 pandemic.
With 11,970 athletes from 45 nations, this is the largest edition of the Asian Games, which began in 1951. These competitors will vie for 481 gold medals in 61 disciplines in 40 sports.
After the host country China marched into a thunderous ovation, President Xi declared the Asian Games open.
In keeping with the concept of a green Asian Games, the opening ceremony used digital fireworks instead of real ones.
Athletics coach Sun Haiping, former Olympic shooting champion Xu Haifeng and diving legend Guo Jingjing were among former Chinese athletes carrying the Olympic Council of Asia flag into the stadium.
Following a 25-minute gala show celebrating China's beauty with advanced performance technologies, the Asian Games cauldron was lit, with high-end technologies again taking center stage.
For the first time in Asiad history, a digital torchbearer was created to join the human torchbearer, swimming star Wang Shun, after five Chinese sporting heroes, including Olympic table tennis champion Fan Zhendong and Olympic swimming gold medalist Ye Shiwen, covered the final leg of the relay.
Wang, the 2021 Olympic champion in the men's 200m individual medley, carried the Asiad flame toward the cauldron, while the digital torchbearer, shown on the screen running across the Qiantang River, joined him. They then simultaneously lit the cauldron in a first for the Asian Games.
Hangzhou uses eco-friendly, zero-carbon carbinol as the cauldron exhaust, demonstrating its commitment to stage the first carbon-neutral Asian Games.
The competition wraps up on Oct. 8. (Yonhap)