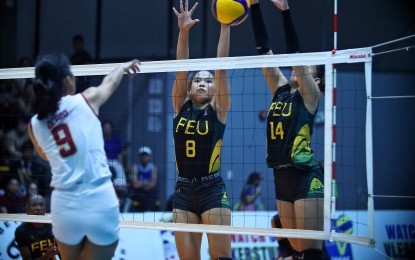 MANILA – Top seed Far Eastern University (FEU) downed University of Perpetual Help to reach the finals of the 2023 Women's V-League Collegiate Challenge at Paco Arena in Manila on Sunday.
Outside hitters Gerzel Mary Petallo and Chenie Tagaod delivered the points in the third set that allowed the Lady Tamaraws to win Game 3 of the semifinal series, 25-16, 25-20, 25-17, after one hour and 25 minutes.
FEU will face College of Saint Benilde (CSB) in Game 1 of the title series on Wednesday at 2 p.m.
"I focused and talked to them more to bring us back to our desired system and prevent Perps (Perpetual) from gaining momentum. Perps also worked hard, and it was a tough match," FEU interim head coach Manolo Refugia said.
Tagaod led the Lady Tamaraws with 17 points -- 16 on attacks -- and opposite hitter Faida Bankake chipped in 14 points, including two aces.
Mitzi Panangin delivered five of FEU's 12 blocks, outside hitter Kiesha Dazzie Bedonia scored 10 points while Christine Ubaldo made 15 excellent sets.
Outside hitter Mary Rhose Dapol finished with eight attacks and one ace for Perpetual, which will meet University of the East (UE) in the battle for third place.
Opposite hitter Shaila Allaine Omipon had six attacks while libero Marian Tracy Andal made 11 excellent digs and 10 receptions.
CSB swept UE in their Final Four series, capped by a 25-21, 25-13, 25-10 victory in Game 2 on Saturday. (PNA)