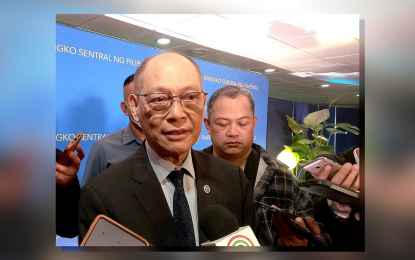 MANILA – Department of Finance (DOF) Secretary Benjamin Diokno said the government is set to launch this week a US dollar denominated retail dollar bonds.
"We will launch the Retail Dollar Bonds 2 next week, on September 26 to be specific," Diokno said in his weekly press chat on Friday.
Diokno said the government is looking at an initial volume of USD1 billion.
The tenor is either five or 10 years.
"I think initially, it will USD1 billion but the demand is big so maybe we can upsize," he said.
During its last retail dollar bond offering in 2021, the government successfully raised USD1.5 billion.
Diokno said for the RDB 2, the government lowered the minimum denomination to USD200.
Middle East roadshow
The Finance chief said that promoting the Retail Dollar Bonds 2 was part of the government's Middle East roadshow earlier this month.
Aside from the RDB 2, the government is also planning to issue its maiden Sukuk bonds.
"Another objective of the Middle East roadshow is to promote Sukuk bonds. These are Islamic issuances that will diversify the government's sources of financing, widen our investor base, and boost investments in physical and digital connectivity," said Diokno.
"The Bureau of the Treasury is targeting to issue the Republic's maiden Sukuk bonds within the fourth quarter of 2023," he added.
Diokno, meanwhile, said the working visit in Middle East served as a good opportunity for the Philippines to make new inroads into the previously untapped Middle East market.
"We were pleasantly surprised to know that both public and private sector players in Qatar and UAE have been eager for a long time to forge stronger economic ties with the Philippines," he said.
Diokno said Philippine government officials discussed with the UAE Ministries of Economy and Finance the ongoing negotiations of the Comprehensive Economic Partnership Agreement or CEPA as a means to deepen bilateral trade, investments, and economic cooperation.
"We look forward to continuing our conversations with them during COP28 in Expo City, Dubai by the end of November to the first week of December 2023," he said. (PNA)