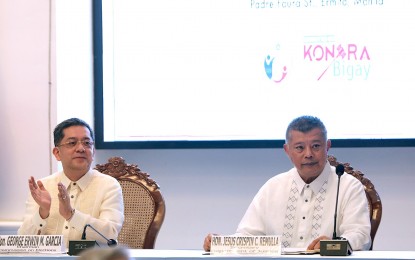 MANILA - The Commission on Elections (Comelec) and the Department of Justice (DOJ) signed an agreement on Monday to go after and prosecute persons involved in vote-buying in the Barangay and Sangguniang Kabataan Elections (BSKE).
Justice Secretary Jesus Crispin Remulla said prosecutors nationwide will be on duty to accept complaints on Oct. 30, election day.
"The fiscals will be available for the cases that may be filed," he told the media during the "Kontra Bigay" memorandum of agreement signing at the DOJ office in Manila. "We can handle the volume. Mahalaga dyan may testigo (What is important is there are witnesses)."
He said the need for witnesses is crucial since most vote-buying may be conducted using electronic wallets, instead of actual cash changing hands.
Remulla also sees no conflict with a recent DOJ directive to closely scrutinize all charge sheets filed before prosecutors to ensure that complaints with a reasonable probability of conviction will be filed by the courts.
All charges may be considered "open-and-shut" cases if sworn statements from witnesses are complete and sufficient.
Comelec chairperson George Erwin Garcia expressed confidence that measures such as warrantless arrest of persons involved in vote buying and red flags like the transport of large volumes of cash and giveaways are sufficient measures.
So far, Comelec has already received 23 complaints related to vote-buying.
The practice of "flying voters" or voters ferried to different voting areas are no longer prevalent due to the adoption of modern voter identification systems, Garcia added.
The campaign period for the BSKE will be on Oct. 19 to 28.
The morning after the filing of certificates on candidacy closed on Sept. 4, Comelec said there were 1,414,487 aspirants -- 96,962 for Punong Barangay (village captain); 731,682 for members of Sangguniang Barangay (village council); 92,774 aspirants for Sangguniang Kabataan (youth council) chair; and 493,069 for Sangguniang Kabataan council. (PNA)