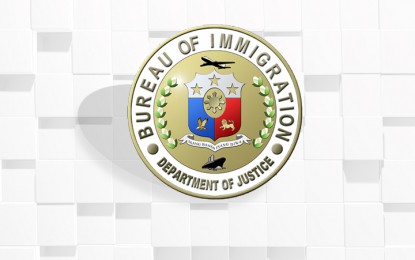 MANILA – The Bureau of Immigration (BI) has reported the deportation of 75 Chinese nationals suspected of being in a syndicate engaging in love and cryptocurrency scams targeting Westerners.
In a statement on Monday, BI Commissioner Norman Tansingco said the deportees were the first batch of foreigners who were blacklisted and departed on Sept. 22, following their arrest at the SA Rivendell Global Gaming Corporation in Pasay City.

"The strong partnership of the BI with PAOCC (Presidential Anti-Organized Crime Commission), as well as IACAT (Inter-Agency Council Against Trafficking) member agencies, led to this massive arrest and deportation of foreign nationals abusing their stay in the country," he said.

The statement said the syndicate pretended to operate an "online gaming customer relations service" but was discovered to lure international online users through various schemes.
Amid this, Tansingco vowed to continue the bureau's intensified collaboration with other agencies to apprehend undesirable aliens conducting illegal activities in the country "in line with the President's directive for government agencies to work closely together, in unity, to achieve greater results."
The BI said 70 other foreign nationals connected to the said operation are still awaiting their deportation.

"Double-trafficking" abroad

Meanwhile, Tansingco warned anew against double trafficking incidents following the repatriation of a Filipino victim from Myanmar last Sept. 22.

In a separate statement, the BI chief said the victim was illegally recruited via Facebook and misrepresented himself as a tourist bound for Thailand last year.

"This is a case of double trafficking, wherein the victims are trafficked by making them agree through false promise, and then they will be forced to be part of a scamming syndicate making it hard for them to seek help and repatriation," he said.

Tansingco said the illegally recruited victim was coerced to work in a Chinese scam syndicate company based in Myawaddy, Myanmar.

According to the Immigration Report, the victim was obliged to function as a love scammer for cryptocurrency accounts, with a wage much lower than what his recruiter had promised.

"He was promised a salary of up to PHP100,000 per month. He was asked by his recruiter to pay PHP20,000 for his travel expenses, which were deducted from his salary. He received a salary of PHP60,000 a month for 6 months, far from what was promised to him by his recruiter," the IR reads.

Worse, the said victim needed to raise a fund worth twice the promised salary just to be released from his illicit work.

"He was only able to return home after pooling PHP200,000 from family and friends to pay his company for his release," the BI added.

In the end, Tansingco urged aspiring overseas Filipino workers to be vigilant against enticing offers from online recruiters that use illegal travel procedures for illicit work abroad. (PNA)