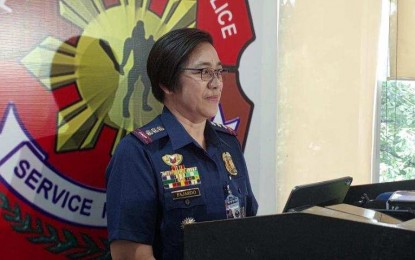 MANILA – The Philippine National Police (PNP) on Monday said 246 "areas of grave concern" for the Oct. 30 Barangay and Sangguniang Kabataan Elections (BSKE) are mostly from Bicol, Eastern Visayas and Bangsamoro Autonomous Region in Muslim Mindanao.
In a press briefing in Camp Crame, PNP spokesperson Col. Jean Fajardo said the areas belong to the red category of the election hotspot list.
"Areas listed under the red category would be under Comelec (Commission on Elections) control and the poll body has the authority to augment security forces in these areas," Fajardo told the media.
Aside from red, other categories in the poll hotspot list are green, yellow and orange.
Green refers to areas that do not have security concerns and are generally peaceful and orderly, while yellow are areas of concern, which means that these have a history of election-related incidents in the last elections, possible employment of partisan armed groups, occurrence of politically motivated election-related cases and had been previously declared under Comelec control.
Orange, meanwhile, means areas of immediate concern where there is a serious armed threat.
Fajardo said 1,248 villages are under the orange category while 1,100 are under the yellow category.
Fajardo said the PNP and the military would convene the National Joint Security Control Center (JSCC) soon to reconcile their records regarding the election hotspot list.
The JNSCC, she said, would then submit its recommendation on the hotspot list to the Comelec en banc for final approval.
Fajardo, meanwhile, said only six out of a total of 44 incidents reported to the PNP have been validated as election related incidents (ERIs).
Another six are under investigation while the rest were confirmed as non-ERIs, she added.
Fajardo also said 572 firearms have been confiscated at checkpoints while 926 persons were arrested since the start of the election gun ban on Aug. 28.
She said they have also deposited 1,120 firearms for safekeeping while 800 firearms with expired licenses have been surrendered to the PNP.
Civilians comprise over 96 percent of the total number of gun ban violators with 890 out of a total of 926 arrested persons, according to PNP data.
The number includes 22 security guards, four police officers, four military personnel, three members of law enforcement agencies and three elected government officials.
The election period for the BSKE started on Aug. 28 and will end Nov. 29.
During this period, the Comelec mandates the suspension of activities involving the carrying of firearms or other deadly weapons and the employment of security personnel or bodyguards by incumbent public officials, whether elected or appointed, as well as private individuals. (PNA)