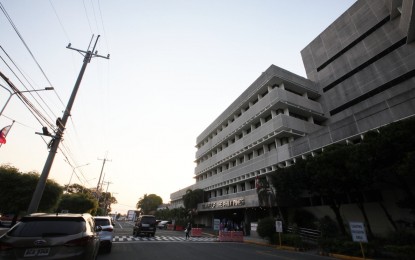 MANILA – The Senate approved on Monday five bills that include four priority measures of the Legislative-Executive Development Advisory Council (LEDAC).
Senate Bill (SB) Nos. 2001 or the New Philippine Passport Act, 1846 or the Internet Transactions Act, 2224 or the Ease of Paying Taxes Act, and 2233 or the Public-Private Partnership (PPP) Act are expected to be signed into law before the year ends.
The Senate likewise approved SB 2028 or Expanding the Coverage of the Centenarians Act.
In the case of SB 1846, a letter from President Ferdinand R. Marcos Jr. certifying it as urgent was read in the plenary.
"To address the urgent need of the government to implement regulatory measures on electronic commerce transactions, in order to strengthen consumer protection against fraud and other illicit activities, and promote fair competition and security of business. The bill, if enacted, will build an environment of trust between online merchants and consumers and thus, enhance the growth of e-commerce in the country," read Marcos' letter, addressed to Senate President Juan Miguel Zubiri.
Senate Minority Leader Aquilino Pimentel III objected to the approval of the measure, reiterating that presidential certification of urgency should apply only to measures that address calamities or public emergencies.
Responding to Pimentel, Zubiri argued that rampant internet scams can be considered as public emergency.
"I think, lahat po tayo ay natamaan na ng scam sa (all of us were already victimized by scams in the) internet. So, I believe this is a priority. It should be a priority and therefore, we should proceed. If there is an objection, we would like to ask the Majority Leader the pleasure of the voting," Zubiri said as Senate Majority Leader Joel Villanueva initiated the voting process.
The body proceeded with the approval of SB 1846 after garnering 20 affirmative votes and two negative votes.
Principally authored and sponsored by Senator Mark Villar, SB 1846 shall create the Electronic Commerce Bureau and shall establish a code of conduct for all businesses involved in e-commerce in order to safeguard and advance consumer interests.
Digital platforms or e-marketplaces shall be subsidiarily liable with the online merchant or retailer if it failed to perform its responsibilities as laid down in the proposed measure that caused damage to the consumer.
The new the New Philippine Passport Act allows senior citizens and migrant workers to renew their passports virtually.
In case of a lost passport, it can be replaced with an emergency passport valid for one year or an emergency travel document certificate if passport is lost overseas to allow the traveler to go home.
The Ease of Paying Taxes Act simplifies tax filings for small and medium enterprises, allows most tax processes to be done online, accelerates value-added tax refunds through a shift to an invoice system, and creates a special division in the Bureau of Internal Revenue for small and medium taxpayers.
The PPP Act contains significant reforms intended to inspire confidence in potential project proponents and to ensure that the government and implementing agencies can select the most advantageous options.
Under the expanded Centenarians Act, 80-year-olds will be granted a cash gift of PHP10,000 and 90-year-olds PHP20,000.
The original law gives PHP100,000 to a centenarian. (PNA)